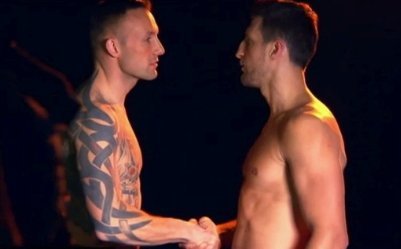 Unbeaten George Groves sparred with both IBF super middleweight champion Carl Froch and WBA champion Mikkel Kessler, and he feels knows who's going to be the clear winner on Saturday night based on his sparring sessions. He won't say who it'll be though, but you can guess that Kessler will be the guy that comes out on top in this one.
Groves said to the telegraph.co.uk "I've sparred with both. I spared with Carl before his first fight with Kessler in 2010. I suppose I've had a better look at both of them than most have, and for me there's a clear winner, but I can't really share. It wouldn't be fair to the lads."
It's clear that he's talking about Kessler as the winner because he gave Froch all kinds of problems in their sparring sessions, and it's doubtful that he was able to do much with Kessler because he's so highly skilled and hard to hit. It's like night and day between the two fighters.
Froch wasn't happy with the news that Groves, a fellow Brit, decided to spar with Kessler for his training camp for this fight, as he saw it as a sign of disloyalty.
Froch feels that Groves shouldn't helped Kessler at all. I'm not sure why Froch should care about it. Groves was doing this for money and for the experience. It's not every day that a fighter like Groves gets an opportunity to spar with the likes of Kessler to improve and gauge where he's at in comparison to him in the skills department.
Froch says he has no interest in fighting Groves or Nathan Cleverly, another fighter said to have helped Kessler with sparring for this fight. Froch sees himself as a level above both fighters and he feels he doesn't need to fight either of them.
Kessler has a clear advantage over Froch in the speed and boxing ability department. Froch might have a little more power than him, but it's so close that it's a negligible advantage. In their fight in 2010, Kessler got the better of Froch with almost every exchange and there was a clear difference in talent. I can't see anything changing with this fight.