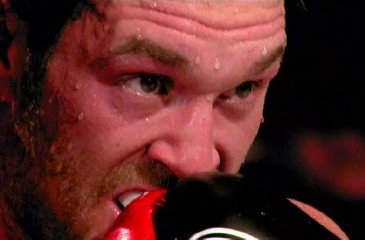 Lennox Lewis: "Can [Anthony] Joshua box? No, because he hasn't reached that level yet"
Retired heavyweight great Lennox Lewis is not one of those people who agree with claims – recently made by Matchroom's Barry Hearn – that Anthony Joshua is the best heavyweight in the world today. Speaking with The Mirror, Lewis hinted towards a belief that Joshua might become number-one in the division in the future, but he said that right now Tyson Fury is the best big man on the planet.
Lewis argues how we have not yet seen Joshua tested in a fight, and that until he has to go 12 rounds in a tough fight, he will not be convinced the IBF heavyweight champ can box.
"Tyson Fury is the best right now, I really think so," Lewis said. "Joshua has got great power, he's the future. I think he's doing a great job right now. His next fight is a good fight for him, Dominic Breazeale. It's a good step up, which everyone wants to see. But Tyson is number-one, because he is the heavyweight champion of the world. He didn't get it handed to him – he earned it. Can Joshua box? No, because he hasn't reached that level yet. His longest fight has lasted eight rounds (actually 7-rounds, the win over Dillian Whyte). He hasn't been taken deep into fights like Tyson Fury has. Fury has gone 12 rounds on his toes, so who's better? You have to say Fury right now."
Lewis added how his opinion may change if and when Joshua does go 12 hard rounds in a testing fight, but for now he is sticking with his opinion that Fury is the main man. It's hard to disagree with Lennox, as Fury has that superb, upset win over Wladimir Klitschko on his record. Joshua? His biggest win is that awful blow-out of an awful Charles Martin. With Joshua, it's all about potential; as Lewis suggests. But in terms of proven qualities, Fury is the best in the world today, probably followed a close second by WBC ruler Deontay Wilder, with regular WBA champ Luis Ortiz third, Joshua possibly fourth or fifth.
Now all we need is these three exciting fighters getting busy fighting one another.
As for Lewis saying Breazeale is a "step up" for Joshua, most fans will likely disagree with that. Many fight fans are expecting another quick win by A.J on Saturday night. Still, it is interesting how Wilder has gone on record as saying Saturday's IBF title fight is in his opinion a "50-50" fight. Maybe Wilder and Lewis see something in Breazeale that others do not?