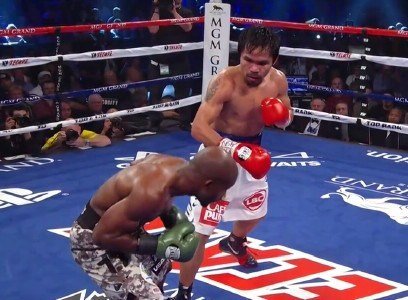 Carter C. (Northridge, CA): I think Pacquiao's performance proves how good he truly is. I would like to know how you assessed his performance and what would you like to see next from him?
Vivek W. (ESB): Going into the bout, my official prediction was a Pacquaio stoppage down the home stretch, possibly as late as the 12th round. What I predicted and what we saw were two vastly different things, but in the end, the results carried the same weight. I just truly felt that his work-rate and the power it embodies alone would be able earn him a victory in this fight. Bradley has shown us great evolution, but there are a few major flaws within his game that I seriously doubt can be corrected at this stage of his career. It's one thing to work on a particular set during camp; but in the heat of the battle, a veteran will revert to those tendencies that are deeply rooted and engrained in the brain every single time.
With Bradley, I saw a bit more speed, and a much better application of it. Unfortunately, after a strong start with much promise, he began to unravel and the stamina issues, as well as the poor body language began to surface, and at the highest level, there's simply no room for that margin of error. The looping punches, flat feet, and the limited response when those small windows of opportunity appeared each served as reasons to limit his chances of success in the end. As previously stated, Bradley is a good fighter, and a very solid contender, but we've seen him moments from disaster too many times for me to believe he would defeat Pacquiao in what would have been a career closer for the Filipino legend!
When the lights shine the brightest, the biggest stars find a way to loom even larger. We've seen Pacquiao elevate himself. Bradley has accomplished a bit much, but I had no indication that he could do that against someone in the likes of Manny (Pacquiao). All that being said, I think we have to assess Pacquiao's performance and see it for what it's worth. There seems to be an unspoken rule in part of the Pacquiao fan base that hints at the fact that a victory is a victory, and good, bad, or indifferent, there's no room for any commentary that speaks anything outside of his greatness. It's a bit troubling, as it prevents some in the media from opening up about a matter many want to be a closed case! I woke up to several emails from various fight fans complaining about my immediate thoughts on the fight posted on FaceBook.
What I found very intriguing about this is that his very own trainer, for the third time in three fights came out publicly speaking in a tone far stronger than my verbiage to communicate the very same points. After the Rios fight, I gave an honest assessment that I felt Pacquiao looked good, yet he has slow down a bit from what we've seen in the past. I received strong criticism, only to have Roach support those words by openly and publicly admitting (direct quote) "No, Manny isn't the same. He has slowed down. He isn't who he was, but he can still beat a lot of guys out there"! This time around, I supported my previous position by saying that "it's clear, the countless wars and age have slowed him a bit, however, 85% of Pacquiao is greater than 99.9% of the men he would be required to face".
Again, my mailbox was laced with more profanity from fans who felt I was a bit "over the top". Since Roach is obviously more respected on this issue, I'm going to use his words, yet again, to make my point for me: "He was a little bit slower than I've seen in the past. I don't know why, because when he was in the dressing room preparing, he was on fire". He concluded his statement in saying "I can't say he's back at his best because I didn't see that. We trained very hard for this fight….that's the truth….but there are still things missing. We were practicing some things in the gym that weren't implemented in the ring. To tell you the truth, I'm a little disappointed because of the way he fought at times. I thought he could do another kind of fight….other things [we worked on]".
Those are some very true words from a source who rarely strays from reality when he's off the live wire and the camera's are turned to the "OFF" position. There are a few other quotes Roach made in the aftermath that people need to take at face value, as they answer many key questions. To setup Roach's comments, it should be noted that Arum stated that he "wants the winner of Pacquiao/Bradley to face the winner of Marquez/Alvarado". He followed up on that by saying he "won't attempt to negotiate with Mayweather's team after May 17th (when Alvarado/Marquez fight) because a fight for Pacquiao against that winner will be the easier fight to make". To seal his contradictory statements up, we have Freddie Roach who stated only moments after the Bradley victory, "On our part, I think Bob (Arum) wants that fight (Mayweather) to be our very last fight".
This statement solidifies the fact that despite winning, it is very realistic to understand how age and countless wars have put Pacquiao in a steady decline; but more importantly, that decline is all the more reason why there will be no rush to see him in such a dangerous clash (Mayweather) until Floyd either loses, shows comparable decline, or every other exhaustible option has been exhausted, leaving no other choice. These words pieced together were the words of the men most trusted by Pacquiao…..not me. So, for those who failed to respect my thoughts, please take them for what they're worth, and respect them for the truth that lies within.
Basilio A. (Orlando, FL): Erislandy Lara has apparently pulled out of his match with Ishe Smith to face Canelo in July. What are your preliminary thoughts about this matchup?
Vivek W. (ESB): I think it tells us that Canelo is a credible young talent that has built his image on talking less and demonstrating more! This is a fight that he didn't have to take at this stage, yet after being pressed and gauging crowd interest, the overwhelming consensus is that the fans do in fact want this fight….so he immediately made it happen. I think you have to respect that. In an era of the sport where so many go out of their way to locate reason to use the famous "D" word, (ducking), it's refreshing to see a talent that has managed to go after the big money fights, and still find a way to give the fans what they want. Rarely do the two worlds meet.
I think Canelo is without doubt on his way to super stardom, particularly in his country, but some of that may very well hinge on what happens here. Against Mayweather, he was in with the best available talent in the sport today. Against Lara, he'll be facing a man with a talent that's not nearly as refined, but certainly somewhere in the ballpark! Lara is definitely one of those talents that I categorize as "under the radar, but above the rim"! The only trouble we've seen with him in the past is a weak level of consistency. Let the truth be know, that's his only true flaw. One could conceivably argue that Lara has more pure talent than anyone not named Mayweather in the sport today, with exception of fellow countryman, Guillermo Rigondeaux.
How that all bodes for Canelo remains to be seen, but the one edge I'd personally give Canelo is execution. When we look at speed, power, offense, defense, etc., all things are fairly equal. But the proverbial "6 degrees of separation" in this equation all come down to one man consistently executing and the other scaling peaks and valley's, barely winning fights that his talent should make far easier than he's been able to accomplish. Either way, despite all inconsistencies of the past, Lara knows full well that this is his defining moment, and I truly believe that he will come ready. On the surface, I say this is a 50/50 fight. Either man can rise up to show and prove. From what I've gathered, there will be no catchweights and no questions…..but in the end, we will all have one definitive answer that will apply to both men. Can't wait to find out! Stay tuned…..

Carin V. (Bronx, NYC): Bob Arum was very vocal about the MGM Grand's decision to promote Floyd Mayweather's bout with Maidana stronger than Pacquiao's bout with Bradley. What were your thoughts on the reports stemming from this matter?
Vivek W. (ESB): When I first read the direct quotes, I honestly thought it was a joke. I just couldn't wrap my head around the fact that he would go on a tangent like this in the presence of journalist from around the world, in the very same venue in which he was hosting an event. Few have taken the time to actually monitor the history of the events which led up to this meltdown, but a quick trip down memory lane provides all the answers one needs to shed light on a very dark reality! As much respect as I have for Bob Arum, I'd be the very first to say the man has been more divisive than any other perennial player in the sport of Boxing today. And that's not a stone being cast from behind a bush. I would openly have this discussion with him, if for no other reason but to better understand him.
When we take a look back at some of the things to take place over the past two years in particular, it's very easy to see things leading up to that moment. Some seem to forget that it was Bob Arum, whom for selfish reasons of his own, opened up this can of worms. Remember a couple years ago when the MGM Grand courted he and Pacquiao heavily, Arum decided to shift gears and take Pacquiao to the state of Texas to try to "fill up the Cowboys Stadium with 100,000 screaming Filipino's"?
After a few unsuccessful attempts, Arum found a way to bow out of that option and return to MGM Grand. Rather than keeping things at peace after returning, remember how Arum decided it was best to "tap into a destination with 10x more potential than Las Vegas and far less taxes" by taking his talents down to Macau, China, where his cards were hosted by the immaculate Venetian Hotel and Casino over there? Again, this was a stroke of genius that could have given him one more footnote of success to add to a truly remarkable legacy. Unfortunately in the end, this crap shoot backfired, as Arum rolled the proverbial "snake eyes" across the table.
Fast-forward a few months, and now, the same Bob Arum who attempted to take his talents elsewhere twice in the past without hesitation remembered that there's no place like home; yet home requires him to cross a bridge that he was foolish enough to burn down with unnecessary moves in the past! All of the "island hopping" that Arum had attempted by trying to explore other venues in the past allowed the MGM Grand to assess more consistent value in a different brand! When we look at the dynamics behind this scenario it's two-fold: For starters, GoldenBoy Promotions has been very consistent in keeping their primary business in this one venue. Be it HBO or Showtime, as long as Mayweather has been at the helm, the MGM Grand has been his location of choice. He has been faithful to them….and they've been to him.
Aside from that, you have the fact that GBP has a very deep stable of diverse talent, so even if they decide to capitalize on the large Mexican base in San Antonio from time to time, they can still do that without compromising their benefit to the MGM Grand. This is something only made possible by depth, which Top Rank has very little of at this stage. So, when we look at all of the past gambles by Top Rank that didn't quite stack up, it should come as no surprise why the MGM Grand decided to be most consistent with those entities and individuals who have been most consistent with them. If that's not enough evidence, take a quick to the numbers bracket:
The Mayweather vs Maidana fight (according to the live conference call I took part in) has already amassed $14.2M in tickets sold for the live gate. That was weeks ago! Pacquiao vs Bradley gate money in comparison barely scratched the surface of $8M according to multiple sources. So, even if loyalty wasn't enough to support the MGM Grand's position, the raw data made possible by conclusive numbers gives a clear and concise position on who they should be supporting. So, again, Arum has put himself in a very difficult situation, all because of certain business practices that have not only hurt the sport, but backfired and hurt his business to an extent. He wasn't able to build that "outdoor stadium" he told us about that held up Mayweather/Pacquiao in the past. Now that he's pretty much burned this bridge, perhaps he'll finally get it done! Just a thought. Stay tuned….
(Vivek "Vito" Wallace can be reached at 954.300.5692, wallace@boxing247.com, Facebook, Twitter (@vivekwallace747), and Instagram (ViveksView)).