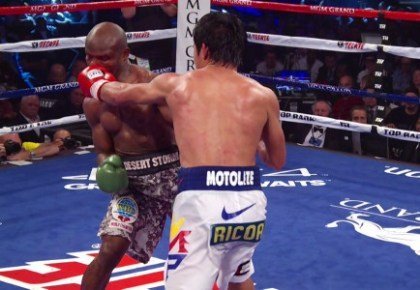 The "Pacquiao-Bradley II" yesterday showed me only two things when I watched it on replay this morning. Let me share them with you as I quickly make this piece to briefly dissect what happened in the "show."
One is Freddie Roach hasn't solved yet the problem of his pupil with good counter punchers. It only goes to prove that Manny Pacquiao's power purely lies not on his ability to knockout a fellow boxer, but on his opponent's inability to effectively counter punch the "one-two" signature combination of Pacman.
Timothy Bradley was a smart tactician in the fight who suddenly veered from his team's plan to engage Pacquiao only in the early rounds to test the waters, shock Pacquiao and gain some points, deviating from their original "strike then back off" strategy for much of the rounds. Bradley succeeded anyhow on occasions being "aggressive" all throughout the "passive" slugfest.
Two is Bob Arum knew that the PPV prospect of "Pacquiao-Bradley" was not looking good. He probably had the initial reading of the ominous numbers few hours before the actual fight, that's why he panicked and echoed the call for a boycott of the "Mayweather-Maidana" on May 3 afterward.
But the "astute" promoter is right after all. Having been taught lessons by the people in the just and justly concluded April 12 Top Rank's in-house production, Arum now appears so ripe to make the super fight. And it must be late this year.
How correct: Next for the fans to boycott should be the May 3 Money Mayweather fight versus the handpicked ball Marcos Maidana. Great, we have more reasons to do it this time.
It's getting "terribly" interesting.
Congratulations!
renimvalenzuela@yahoo.co