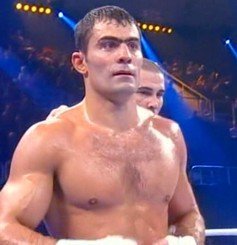 WBC cruiserweight champion Krzysztof Wlodarczyk (47-2-1, 33 KO's) will be defending his title for the fifth against former 2008 Olympic heavyweight gold medalist from Russia Rakhim Chakhkiev (16-0, 12 KO's) on June 22nd in Moscow, Russia. This is going to be a tough fight for the 31-year-old Wlodarczyk because the 30-year-old Chakhkiev is a tough inside fighter with excellent power. He's a much different type of fighter than the guys that Wlodarczyk has been fighting recently.
Chakhkiev, #2 WBC,#5 IBF, #9 WBA, #WBO, is taking a step up in class with this fight. Up until now, Chakhkiev's best opponents have been Zack Page, Alexander Kotlobay, Michael Simms, Epifanio Mendoza and Andres Taylor. None of them have been even remotely competitive with Chakhkiev. He was too powerful and skilled for those guys and the fights pretty much turned out to be all mismatches.
Wlodarczyk's best wins have come against Danny Green, Francisco Palacios, Giacobbe Fragomeni and Steven Cunningham. Wlodarczyk's wins over Palacios have been controversial with a lot of boxing fans feeling that Polacios should have won both of them. Both of the fights have taken place in Wlodarczyk's home country of Poland, and he's pretty hard to beat when he's fighting at home.
Chakhkiev won't have to worry too much about getting a fair shake with the judges because the fight is taking place in his home country of Russia. If Chakhkiev can't beat Wlodarczyk by a decision in Moscow then he doesn't deserve it. There should be no questions about controversy in this fight.
Wlodarczyk likes to fight on the outside using a stiff jab to do most of his work. He's very economical with his punches, and he's got excellent power. It's going to be interesting to see how Wlodarczyk handles the pressure, the inside fighting and the high work rate from Chakhkiev in this fight. Wlodarczyk can move a little, but he's not going to be able to move enough to keep Chakhkiev on the outside for 12 rounds in this fight. He's going to be forced to fight him in close whether he likes it or not.