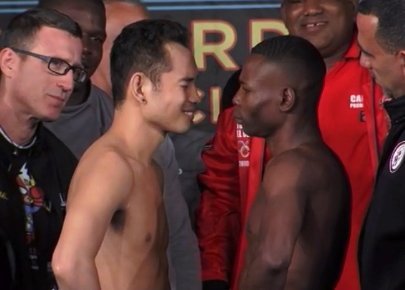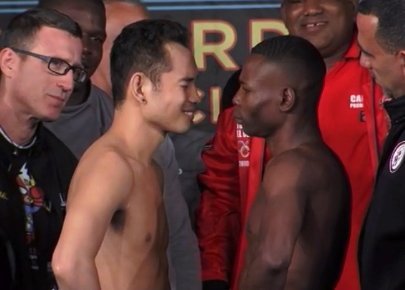 (Tune in to "Left-Hook Lounge Radio" today at 2PM Eastern/11AM Pacific for a breakdown of the fight)
NONITO DONAIRE: KEYS TO VICTORY
For Donaire, the key to victory is one-dimensional with no need to analyze the obvious. Most will initially attempt to look at this matchup and single out his height and reach advantage. Reality tells us that being the bigger man in this showdown won't mean much, as Donaire has never been a fighter to lean on an opponent or use his weight to wear them down. The physical battle will be meaningless. Instead giving way to the mental angle, which will ultimately be the deciding factor. Donaire has all the tools he needs to win and enough ring intelligence to dispatch them. The operative question at hand is how will he handle what could be the deepest adversity he's ever seen…..mentally?
How does he adapt against a fighter who isn't quite as easy to hit that punches from an angle that's even harder to detect (southpaw stance) in the heat of battle? Does his inability to land as easy as he's used to result in frustration that eventually affects his execution? One of the biggest elements to this fight for Donaire that few have spoken of is that in the waning stages of Pacquiao's quickly fading career, the entire Filipino nation openly looks at Donaire to not only carry the torch, but use this grand stage to seize it in front of the world. Does this extra added pressure help or hurt his execution? The physical element belongs to Donaire. Easily. Mentally….is he truly ready to solve the puzzle that awaits on a stage this grand? There lies his key to victory.
GUILLERMO RIGONDEAUX: KEYS TO VICTORY
For Rigondeaux, the final outcome also resides on the mental platform, yet for different reasons. Rigondeaux has always carried a very measured approach in his execution in the ring. The one thing he has to avoid in this fight is being too measured. Rigondeaux is a thinking fighter. Perhaps too much so, as the past has seen him frequently waste precious moments, round after round. Against a fighter like Donaire who naturally throws more punches, Rigondeaux will have to find a way to execute without being too cautious and allowing himself to get too far behind early. 3-4 early rounds in the bank for Donaire is a guaranteed victory for him.
Rigondeaux has stated that he plans to let his hands go more in this fight. He will need to follow through. Another key for Rigondeaux is the body. Donaire has a penchant for dropping his hands. Rigo will have to gamble and take chances to seize these frequent moments. A slippery defense to create early doubt and an unorthodox precision based counter-punching style, intense in body work, is a clear path to seeing Rigo have his hand raised at the end of the night. It all starts with execution and enough action to avoid lulling the judges to sleep like he has on occasion in his short career.
FOUR TO EXPLORE – (GAME CHANGING ELEMENTS TO WATCH FOR)
Close or Closed?: When we look at Donaire's past history, there's been absolute domination of every man he has faced. The one opponent (Darchniyan) who was able to keep the scorecard close quickly saw the proverbial curtains close as Donaire iced him, resulting in a 5th round stoppage. Rigondeaux is the best fundamental boxer Donaire has ever faced. Will keeping the scorecard close result in Donaire turning up the heat and pulling those proverbial curtains on Rigo early as well? A true P4P fighter is able to take control when the going gets tough. It'll be interesting to see if Donaire is able to do this against a sound tactician.
Amateur or Experience?: Everyone talks about Rigondeaux's amateur background, yet, on the pro level he has no key moments credited for breaking headlines. On the other hand, Donaire's biggest accolades have come on the pro level, due in part for the fact that his amateur career only spanned 76 fights; although a forgotten victory over then light flyweight James Kirkland does exist on that short resume. Is Rigondeaux's 380+ amateur fights enough experience to handle a pro like Donaire? Or will Donaire's 32 pro fights be enough to handle a skilled vet of nearly 400 amateur fights?
Who's Right? Who's Left?: Similar to the island of Puerto Rico, the land of the Philippines finds itself looking for a true torch bearer now that the biggest name on the roster has fallen in a mighty way. Donaire appears to be that man. Everyone from the beautiful nation who follows the sport has anointed him as such. Are the Filipino faithful right in this observation? And if Donaire falls, who's left? This type of pressure has been known to burst pipes. Tonight we'll finally see how Donaire responds.
Age Before Beauty?: Many speak about the late debut on the professional level for Rigondeaux who's now a ripe 32 years old. Most criticize him for this without stopping to realize that Donaire, himself, will be 31 years old later this year. Is this really as much a factor as some seem to think? Yes….one man turned pro far later. But the extensive time in the amateurs could technically say he has taken less punishment while learning just as much – if not more – during the process. Just something to think about…..
OFFICIAL PREDICTION
When the smoke clears and these two men finally square off, it will all come down to activity. Critics of Donaire will say that Vasquez wasn't nearly as polished as Rigndeaux, yet he took Donaire 12rds and closed his eye. Critics of Rigondeaux will say he has never been on this stage and his inability to look Donaire square in the eye to this point during the promotion proves he isn't ready for this stage. In the end, while those things may be true, the biggest point of contention is the fact that landed punches win rounds. And one man has a much greater penchant to throw punches than the other – whom is far more skilled fundamentally – yet potentially too methodical with those skills to earn a victory.
By the end of the night, as skilled as he is, the best shot Rigondeaux has will be to land something to the body that Donaire simply can't recover from. Donaire has always appeared a bit soft around the midsection, and we've never really seen anyone work it like Rigondeaux has the ability to. Rigondeaux will need to follow his promise and let his hands go, primarily to the body and weaken Donaire enough to land a game-changer late up top. With his skills this is a good possibility. But the safe pick is on Donaire lasting the full 12rds and overcoming a few shaky moments to land just enough to get a decision.
NONITO DONAIRE VIA SPLIT DECISION
(Vivek "Vito" Wallace can be reached at Left-Hook Lounge Radio every Saturday and Monday night. Also at Facebook, Twitter (@vivekwallace747), Instagram (viveksview), and Youtube).