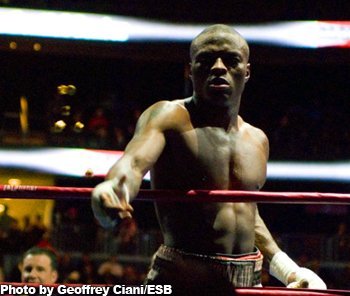 By Joseph Herron – Tonight at the newly erected Barclays Center in Brooklyn, New York, 29 year old Middleweight, "Kid Chocolate" Peter Quillin (27-0, 20 KOs), will attempt to capture his first major world title as he takes on incumbent WBO Champion Hassan N'Dam N'Jikam (27-0, 17 KOs) in the opening act of a spectacular Golden Boy quadruple header.
The action in the ring will be televised on Showtime premium cable network with a start time of 8PM EST/PST.
While most casual fight fans won't be familiar with the reigning title holder, the hungry young Brooklynite will have his hands full against the durable and undefeated French born fighter.
But according to "Kid Chocolate", the juice will definitely be worth the squeeze on October 20th.
"Every fight is a 50/50 fight, no matter what anyone tries to say," stated Peter Quillin. "Any fighter can come into a fight with the right frame of mind and land one shot that puts you away. It only takes one good punch to knock a fighter out and anyone can come in the ring and land that perfect shot on any given day."
"I know that N'Dam is a world champion and I know he's undefeated. To get to that level you have to be the hardest working fighter in the gym. Unless you're Chavez Jr, a world champion is always the hardest working fighter in the gym."
"But the current champ has never fought anyone like me. I'm expecting a very difficult fight but I know I'm going to become the new WBO Middleweight Champion of the world. I been training for this opportunity my entire life, and everyone who knows me knows that I live boxing 24/7. I eat right, I live right, and I'm always training in the gym."
"So in my mind, there's nothing he can do to keep me from becoming a world champion on October 20th."
Despite entering the ring as the challenger on fight night, Peter will look at this bout as a long journey finally fulfilled.
"This is my dream. On October 20th, in my hometown of Brooklyn, New York, I will accomplish my dream and become a world champion, but not for me. I want to be a world champion for the people. It's not because of the money or anything like that, it's because I come from the floor."
"My Dad came here with nothing from Cuba. He came from nothing and he's a lot of the reason why I'm doing what I do today. I've worked so hard for so long to get here, and no one will be able to keep me from becoming a world champion on October 20th."
"The way I am, I always try to visualize something before I do it, and this is something that I can see. I can feel it in my heart. No one has to tell me that I'm going to be this or that. I know that I'm going to become a world champion in my hometown on October 20th."
Many fighters who have previously fought for a world title in front of their hometown fans have fallen prey to the pressures and distractions that can surface when competing in familiar surroundings.
Peter believes that his focus will be too great to be detoured from his ultimate goal.
"At this point in time, it's all about the training and mental preparation. I feel that I'm too motivated to allow any distractions to get in my way of becoming a world champion. I am so focused right now on one thing; and that's getting my world title."
"I've had eighteen fights already in New York City and I'm still undefeated. I know this is no ordinary fight and the prize will definitely be much greater on October 20th, but I know what I have to do and I've put the time in the gym to properly prepare for this opportunity. I haven't fought here in about two years, but I'm coming back fighting at a much higher level."
"If anyone is feeling any pressure, it's the champion. He's the one who is coming to the United States for the first time and he's trying to make a name for himself on foreign soil. He's trying to defend his title in my backyard. He has the added pressure of trying to make a statement against a motivated, hungry, and undefeated fighter. He's going to have to go above and beyond to pull me off of my path to becoming a world champion."
"N'Dam will have all of the pressure on him come fight night. He has to prove to the American fight fans that he's an elite level fighter and a real world champion. This is going to be a great fight and it will be an historic night for Brooklyn to host a fight of this magnitude."
Despite having the charisma of a Hollywood star, Peter Quillin is a very humble fighter who believes that he is indebted to the sport of boxing.
"Boxing is my life and it changed my life for the better. It took me off the streets and taught me how to overcome the mental fight of life. Just like it is in the ring, life is a mental fight. Boxing gave me the confidence to get past any adversity in life. Don't ever let anyone tell you that boxing isn't a mental game, because it is. It gave me the character I needed to succeed in the ring and in life."
"So I want to become the world champion and defend that title to the best of my ability. When I become champion, I want to be the best representative of the sport that I can be. I want everyone to know that they can be whatever they want in life with faith in God and a strong belief in themselves. That's what boxing gave me and I want to show everyone how it has truly worked for me in my life."