By Joseph Herron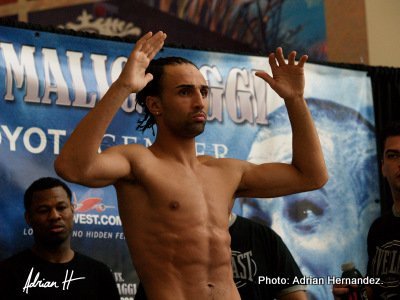 – It's a great time to be the "Magic man".
Not only is two division world champion Paulie Malignaggi making the first defense of his WBA Welterweight title, but he's defending the coveted strap in front of a few thousand of his closest friends…just a few miles from where he grew up.
The 31 year old Brooklynite will be part of a huge Golden Boy Promotions presentation which brings championship boxing back to the famed borough for the first time in over eighty years.
This is a very special event for the current 147 pound champ.
"Whenever you get to defend your title in your hometown, it's always a very exciting event," states Paulie Malignaggi (31-4, 7 KOs). "Brooklyn has a lot of boxing history. A lot of great fighters came from Brooklyn and it's very special to be a part of that history. To be able to bring boxing at a very high level back to this area really means a lot to me."
The last championship bout staged in the beloved area took place at the legendary Ebbets Field, home of the Brooklyn Dodgers, back in 1931.
"So many great fighters came from Brooklyn who never had the chance to apply their trade in front of their hometown fans at a high level. Once Mike Tyson became a champion, he never had the chance to defend his title here. Guys like Zab Judah, Riddick Bowe, or Marc Breland…there's so much boxing history that comes from this area. But until now, there was never a big enough facility to stage a championship event here."
The Showtime televised quadruple-header will be aired from the new state-of-the-art Barclays Center, which was estimated to cost over $1 Billion to erect. The Golden Boy fight card will feature four championship bouts, including Paulie's title defense against young Pablo Cesar Cano (25-1-1, 19 KOs) of Mexico.
Although the seasoned veteran is looking forward to christening the new facility in front of his die-hard fans, Malignaggi realizes that a very hungry fighter will be standing across the ring from him on fight night.
"I think most fight critics are taking Pablo Cesar Cano a little more lightly than they should. I'm not saying that Cano is at the elite level as of now, but he has a very bright future ahead of him regardless of how this bout turns out."
The promising young fighter just turned 23 years of age on October 4th, and is receiving his second world title opportunity in a little over a year's time. Pablo's only defeat was against Mexican legend Erik "El Terrible" Morales in September of last year; a fight which he accepted with only ten days notice.
The former 135 pound pugilist was a last minute replacement for Argentine Lucas Matthysse on the undercard of the Mayweather/Ortiz PPV event.
Paulie won't be taking the hard punching fighter lightly on October 20th.
"His fight with Morales was his first and only loss, and who knows what kind of shape he was in; taking that fight on such short notice. He's a tough, young fighter on the rise and he wants to make a name for himself at my expense. He's not a recognizable name in boxing just yet, but he's definitely not someone who you can take lightly."
If "The Magic Man" gets past Cano on Saturday night, it will surely lead to bigger fights against elite level opposition in the talent enriched Welterweight division.
On the same card, Devon Alexander will be fighting for the IBF Welterweight title against incumbent champion Randall Bailey. Should Alexander be successful in lifting the title from the unlikely 38 year old champ, a future unification bout with the St. Louis native would be most intriguing to the two division world titlist.
It would be a fight that would end a "war of words" that's been enduring for quite some time.
"There is somewhat of a history there. We've exchanged words on twitter and it would definitely be a fight that I would be interested in. But he has to get past Bailey first and I have to take care of business against Cano as well. As anyone who's followed the sport for a considerable amount of time knows, there are no guarantees in boxing."
"But I think the opportunity is there, and there's a certain amount of demand that's been created for that fight. That's the great thing about fighting under Golden Boy Promotions now is that there are a lot of options for me at 147 pounds…a lot of top Welterweight fighters who represent big money fights. At the end of the day, I want to make the best fights possible and I want to make the most amount of money possible."
Paulie is justified in feeling this way. The 11 year pro has definitely paid his dues in the sport of boxing. Not too long ago, the Magic Man was contemplating retirement.
"I don't want to fight too much longer, but yeah I was seriously thinking about retirement if I had lost the fight with Senchenko in Ukraine. At the time, I couldn't get any American TV dates with any of the networks so I had no choice but to travel to Ukraine and fight for the WBA title. It was either that or stay in the states and take lower level fights that would get me nowhere."
"The networks weren't going to change their minds about me without a world title around my waist, so my future in the sport was completely dependent upon me winning that fight against Senchenko in April. I had no choice but to take that fight."
Before challenging the former WBA title holder in his backyard of Donetsk, Ukraine, Malignaggi had expressed some trepidation about fighting abroad out of fear of getting the short end of a bad decision. In boxing, there is only one guaranteed method of victory. And with only six knock-outs on his resume, stopping his opposition wasn't a means that Paulie was used to implementing.
"I was very leery about fighting in Ukraine and I knew that more than likely I would need a knock-out to win the belt. It was a very frustrating time for me professionally, and I felt like I was being slowly pushed out of the sport."
Fortunately for Malignaggi, he took his fate out of the ringside judges' hands and stopped the former champion in nine rounds. Paulie put on a masterful performance and displayed one of his most inspired efforts to date.
As a result of winning the WBA Welterweight title and becoming a two division world champion, doors began to open once again for the talented Brooklyn born fighter.
"Since I won another world title, opportunities have really begun to open up for me again and it's been great. I'm currently riding a good wave and I'm going to continue riding it as long as I can. We'll see where it takes me."
"I've worked extremely hard to keep my name at a high level after so many in the industry had written me off. I've been a professional fighter for a long time now and I always felt that I had crossover appeal but was never presented that way. Whether it was me not having the right connections or me just not getting it done, it just never happened for me."
"But we'll see what happens at this stage in my career."
So not only is his fight on October 20th a homecoming for Paulie Malignaggi, but it's a new beginning of sorts that has no predetermined ending for the 31 year old fight veteran. It's an opportunity to show the world a more mature and much wiser version of the Magic Man.
Welcome home, Paulie…it's been a long time coming.