By James Slate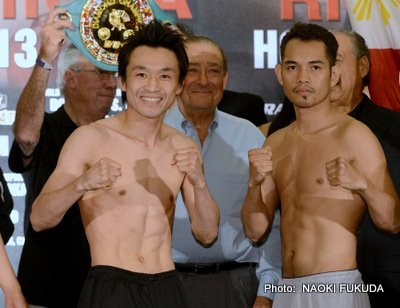 r – For a while now, Nonito Donaire, one of the finest fighters operating today, and Jorge Arce, one of the toughest fighters operating today, have been looking at squaring off (even though the seen-it-all-done-it-all warrior that is Arce recently said he "is not impressed" by Donaire yet disappointingly opted to face a 36-12-1 Mauricio Martinez in his next bout).
Well, the intriguing clash, one that just might result in something special (depending on how much the somewhat grizzled 33-year-old five-weight ruler has left in the tank after his quite amazing 70-bout pro career) is set to go down in Mexico City on a Bob Arum promotion on Dec. 15th. This is the exclusive word according to Philboxing.com, who report that the fight will be made official this coming Monday.
Sure to be a big deal in Mexico, where millions of real, honest to goodness fight fans live, Donaire-Arce is a meeting of two totally different fighters and men. Donaire, both slick and deadly, can seemingly do it all in the ring yet he is both polite and respectful outside of the squared circle. Arce, meanwhile is a true throwback in the tough sense of the word, "Travieso" is also a proven trash-talker, totally unlike "The Filipino Flash" in terms of personality. The clash of styles and personalities will hopefully make for a memorable battle.
Donaire will undoubtedly be made a big betting favourite, and why not? The 29-year-old four-weight king and current WBO super-bantamweight boss is at his peak, he has far less wear and tear on his body than does Arce and he has not lost since way, way back in 2001; his sole loss coming on points in what was just the Pound-for-Pounder's second pro adventure. Arce, on the other hand, is coming towards the end of a rough and tough, up and down, magnificently entertaining career. At 61-6-2(46), Arce is enjoying a fairly long unbeaten run himself (2009 since he was licked), but when has he ever faced anyone quite like Nonito?
Arce will be giving away both height and reach on December 15th, and while both men have seemingly carried at least some of their punching power up to 122 with them (Donaire scoring an excellent stoppage over the quality Toshiaki Nishioka last time out, Arce halting Simphiwe Nongqayi back in Sept of last year), Doniare's speed, youth and freshness should well prove too much for the Mexican who is surely a future Hall of Famer.
Arce can almost certainly be relied upon to give it his all in this, likely his last fight approaching mega status (although some critics suggest Arce "swallowed it" in his 2nd-round NC with Jesus Rojas, when Rojas belted him with a low blow, back of the head combo, with Arce going down and either refusing to, or being unable to, carry on) and the fireworks should be sparkling for as long as they last.
But Donaire, 30-1(19) looks pretty much unstoppable right now – even if Arce claims he is "unimpressed" and has the style to beat him -and it would take a brave fan to bet against him. Look for Arce to indeed give it his all as he goes out on his shield somewhere around the 6th-round in an exciting, value for money rumble.