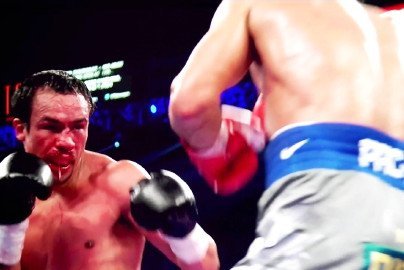 If Bob Arum of Top Rank is interested in having Juan Manuel Marquez (55-7-1, 40 KO's) fight one of his stable fighters Mike Alvarado or Ruslan Provodnikov next then he's going to need to really work hard to try and sell those fights to Marquez because he has no interest in fighting either of those guys. Marquez only wants a rematch against WBO welterweight champion Tim Bradley, who beat him by a 12 round split decision last October in Las Vegas, Nevada.
Marquez is clearly bothered by the loss to Bradley, because he feels he should have got the decision. But Marquez also believes that he can do a better job in a rematch if he works on his power.
"The best option for me is that rematch with Bradley and undoubtedly that's my goal, but first I must decide if I continue boxing," Marquez said to The Record. "Neither Alvarado nor Provodnikov are in my plans…I'm going forward. I gain nothing fighting with them."
Provodnikov probably won't be happy to learn that Marquez has no interest in fighting him, because that was his backup plan if he couldn't get the fight against Manny Pacquiao. He wanted to fight Marquez, and Arum would likely jump at the chance of televising that as a pay-per-view bout, even though it would probably bring in dismal numbers. The same with Marquez vs. Alvarado. There's no way of selling a fight like that given Alvarado's recent stoppage loss to Provodnikov.
Marquez wants to beat Bradley in order to capture a 5th division world title. It sounds good in theory, but it would be more like a paper title because Bradley's not considered to be the best of the welterweight champions. Floyd Mayweather Jr. is arguably a lot better than Bradley. You can also make a strong argument that WBA interim welterweight champion Keith Thurman would beat Bradley as well, if the fight were to ever happen.
If Marquez is hung up on winning a 5th world title then he at least should try and face the best champion rather than picking up paper titles off of secondary champions.