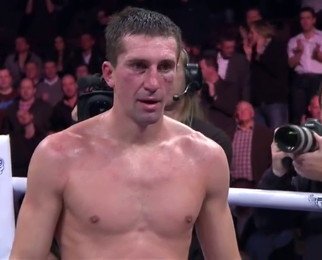 By Michael Collins: Amir Khan is reportedly in negotiations with former WBA World welterweight champion Vyacheslav Senchenko for a fight that is possible for April 20th at the Manchester Arena. To make the fight happen, Khan might have to move up to 147, but it's also possible that Senchenko will come down to 140 for the right price.
It'll be a big payday for Senchenko because he's asking for a considerable amount to take the fight.
In picking Senchenko, Khan would be looking to capitalize on the interest that Manchester fans might have in seeing Senchenko beaten after he destroyed their hero Ricky Hatton by a 9th round TKO last November in Hatton's disastrous comeback attempt. Of course, it wouldn't be Hatton that is avenging the loss, but for some boxing fans in Manchester it might make them happy to see a fellow Brit to beat Senchenko.
If Khan does move up in weight it'll only be for just this one because he still feels he's got unfinished business at 140 against the likes Danny Garcia and Lamont Peterson. Besides that, there are a lot of big punchers at welterweight and I really don't know if Khan's chin could handle getting hit hard over and over again by the likes of Victor Ortiz, Marcos Maidana, Kell Brook, and Floyd Mayweather Jr.
The 35-year-old Senchenko can punch a little, and it wouldn't be all that surprising if he were to knock Khan out if he landed the perfect shot. However, Senchenko's stock has really gone down since his stoppage loss to the light hitting Paulie Malignaggi last year in April. That fight would likely be a blue print for Khan to follow in how to beat Senchenko.
Malignaggi did little more than jab and land occasional pot shots and it was enough to swell up Senchenko's right eye to cause a stoppage. With Khan focusing more on defense now after his brutal 4th round knockout loss to Garcia last July, Khan would likely focus on just jabbing Senchenko to get an easy win.
The Khan-Senchenko fight will likely sell a lot of tickets, and that's add plus for Khan because he's thus far not proven to be a big ticket seller in the United States.