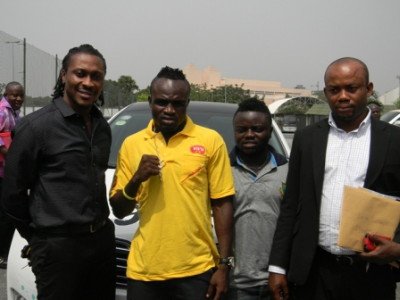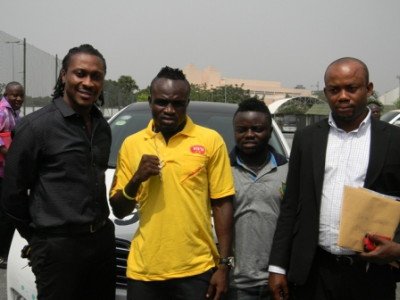 By Prince Dornu-Leiku: It is official, BabyJet Promotions and Management have reached a 3-year partnership deal with WBA International Junior Lightweight champion, Emmanuel Tagoe that will see the promotional syndicate owned by Ghana national soccer team captain, Asamoah Gyan manage and promote the promising boxer.
24 year old Tagoe, famously nicknamed Game Boy won the hearts of Asamoah Gyan and the BabyJet Promotions team by defeating his great local rival, George Ashie by a unanimous points decision back on November 10 last year at the Accra Sports Stadium in what was BabyJet Promotions' maiden event, a win that won him the 3-year contract with an option for BabyJet Promotions to renew.
Financial details of the deal were not revealed at Wednesday's press conference in Accra to officially announce the agreement, but according to BabyJet Promotions CEO, Sammy Anim-Addo, they have paid up Tagoe's past managers, promoters and everyone who had previously helped the boxer in his career. BabyJet Promotions have also reiterated their belief in the potential of the 24 year old boxer to become a world champion and have outlined a comprehensive roadmap of fights leading to world championship glory by the first quarter of next year.
Accordingly, Tagoe's first bout under the management of BabyJet Promotions and Management will come off next month when he faces Vadiki Momber for the WBO Intercontinental Super Featherweight title on the maiden promotion of the newly launched Fresh King Entertainment of former world champion, Joseph King Kong Agbeko on February 22 in Accra.
BabyJet Promotions will then stage an unprecedented promotion by a Ghanaian syndicate in faraway USA in May when Game Boy will have the opportunity to fight for the WBO International Junior Lightweight belt with the purpose to give him exposure and experience in the land of professional boxing.
The journey to world title glory continues in July when Tagoe returns to defend his WBA Super Featherweight belt in Accra. Another fight for Game Boy is then billed for November to prepare him for a shot at the world title in April 2014.
"We are preparing a world champion for Ghana. Ghana needs another world champion and we believe Emmanuel Tagoe so we will give him all the support and by the grace of God, he will become our next world champion," Sammy Anim-Addo explained.
Mr. Anim-Addo added: "BabyJet Promotions, I'm telling you today, is a subsidiary of Asamoah Gyan Foundation and the blessings Asamoah Gyan continues to receive from God, is what is tickling down to others. And trust me, we'll do more."
Tagoe on his part, expressed his gratitude to BabyJet Promotions and Asamoah Gyan but reserved special words of praise for Gyan's elder brother, Baffour who is the chief decision maker for the syndicate.
"I have to thank Asamoah Gyan but the biggest has to go to Baffour Gyan because when Asamoah takes any decision, he can't put it into practice unless Baffour approves it. I also thank my team because if it were not for them, I won't be where I am today. I can't wait for the opportunity to fight for the world title," Tagoe said.