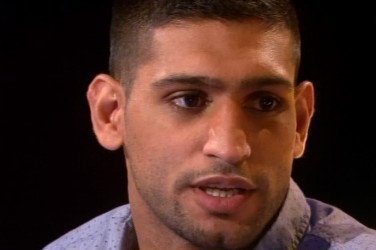 Amir Khan isn't a happy camper right now after waiting for almost a week without hearing anything from the Mayweather camp about his next fight on May 3rd. Khan thought he had earned the right to face Floyd Mayweather Jr. in the ring by virtue of his victory over Marcos Maidana in the Mayweather Promotions poll last week, but Mayweather has gone quiet ever since he announced the poll.
Rumors are circulating around that Mayweather has decided to fight Maidana next regardless of the poll results, and that they want Khan to fight Adrien Broner on the undercard if he's willing to agree to that.
"Left this with my team and Golden Boy Promotions," Khan said on his twitter account. "Don't want to disappoint fans and keep them waiting, & don't want to keep myself waiting. If it's not Floyd then who ever he fights, good luck. All this waiting around is not good for boxing fans and the fighters. Meeting @GoldenBoyBoxing next week to see what my next moves are. Sorry to keep you all waiting."
Khan would have a very good chance of beating Broner if that's the fight he ends up with. If Khan can get some kind of agreement from Mayweather to where the winner of the Broner-Khan fight gets to face him in September, I think Khan might like the idea of fighting Broner. He matches up well with him because of his superior hand speed, and it could be a very easy win for Khan if he can take an occasional big shot from Broner. If Paulie Malignaggi was able to fight Broner to a standstill, then Khan would have an excellent chance at beating Broner.
Mayweather is being careful about picking his next opponent wisely because he'll end up looking bad if he chooses an opponent that fans have no interesting in paying to see. While British fans love the idea of Khan getting the fight with Mayweather, they're not the ones that will be paying to see it in the U.S. The American fans largely have no interest in seeing Mayweather face Khan, and it's enough that Khan's British fans like that fight. It's got to be the American fans that like the fight because that's where most of the PPV money is going to be coming from.