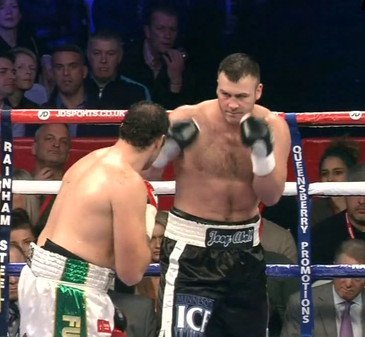 British heavyweight Dereck Chisora (20-4, 13 KO's) literally got away with murder tonight in throwing punches to the back of the head of his opponent Kevin Johnson (29-5-1, 14 KO's) for 12 rounds in beating him by a 12 round unanimous decision at the Copper Box Arena in London. UK. It's been years since I've seen a fighter throw as many rabbit punches as I saw Chisora throw tonight. It was constant and painful looking.
I thought I was watching Chuck Wepner vs. Muhammad Ali tonight, because Chisora was nailing Johnson in the back of the head round after round without the referee Terry O'Connor lifting a finger to stop Chisora from doing it. He chose to ignore the fouling from Chisora, and the fight came down to Johnson having to put up with it and take the shots as best as he could.
The final judges scores were 118-109, 118-110, 118-109.
In the 5th, Johnson was knocked down by a right to the head. He got up and was nailed with a few rabbit punches, but he was able to make it out of the round without getting dropped again.
Johnson looked like he didn't have the stamina to throw more than a small handful of punches each round. He didn't even try really to win the fight. It more of a situation where he was jabbing and then looking to smother Chisora's offense on the inside.
Hopefully Johnson will be alright after this fight. With the amount of punches that Chisora hit him with in the back of the head, I would hope that he goes and gets checked out to make sure he's OK after this fight. The referee should have done something about all those rabbit shots because it was just so blatant.
—
Heavyweight Tyson Fury (22-0, 16 KO's) remained unbeaten with a 4th round TKO win over Joey Abell (29-8, 28 KO's). Fury looked much fatter than he had ever been in any of his previous fights, and he's very lucky that he wasn't fighting a heavyweight with halfway decent talent tonight because he looked like he didn't belong in a ring. Fury put Abell down twice in the 3rd and twice in the 4th. The referee halted the fight prematurely in the 4th despite Abell getting up from the second knockdown in the round and appearing to be alright. A word needs to be said about the referee working the fight. He let Fury get away with hitting Abell while he was on the canvas twice on the final knockdown. He also failed to penalize Fury for hitting Abell low and on the break in the 3rd round.
The referee let Fury get away with an incredible amount of stuff in the fight that would have cost him points and a possible disqualification if a more engaged referee had been working.
For the most part, Fury looked slow, flabby and easy to hit. He would back straight up with his hands extended in front of him each time Abell would come at him, and he looked very vulnerable each time. Abell nailed Fury with some big shots, and him holding on several times in the fight.
—-
Undefeated heavyweight prospect Hughie Fury (14-0, 9 KO's) blasted out journeyman Matthew Greer (16-12, 13 KO's) in the 2nd round. Fury dropped Greer threw times with vicious body shots. The fight was finally halted in the 2nd round. Hughie sat down on his punches a lot more tonight than he normally has in his previous fights, and it looked like he was trying to make some kind of statement. With that being said, he showed much better power in throwing to the body than the head. He's a natural body puncher, but he lacks power when throwing upstairs for some reason.
—
Other boxing action on tonight's card:
Lewis Pettitt pts 6 Elemir Rafael
Michael Grant pts 6 Billy Morgan
Thomas Stalker pts 6 Dan Carr