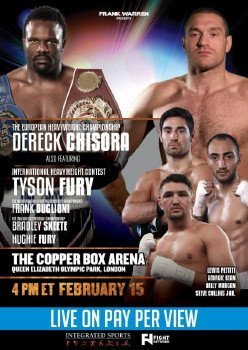 Tonight two of the best heavyweights in England will be in action in separate bouts with a lot on the line for both of them. England's Dereck Chisora (19-4, 13 KO's) has a 12 round fight against Kevin Johnson (29-4-1, 14 KO's) in the main event at the Copper Box Arena. In the co-feature, heavyweight Tyson Fury (21-0, 15 KO's) fights Joey Abell (29-7, 28 KO's). The promoters for Fury and Chisora want to match them up in a fight in the Summer in a WBO heavyweight title eliminator bout, but both guys need to make sure they win their fights tonight against their less than dangerous opposition.
Both Fury and Chisora should win tonight as long as they're smart, and can hold up under the power of their opposition. They're decent heavyweights, Chisora and Fury, but they're not good enough to where you can positively say they'll win each time they're in the ring. Fury brings drama with him because of his weak chin. It doesn't matter that he's never fought a good heavyweight in his career; he's still vulnerable to getting hurt even by opposition without a lot of talent.
That's why there's really no telling whether Fury will beat Abell tonight because if he gets hit on the chin, Fury could find himself on the canvas wondering what hit him. He dropped in his last fight by Cunningham, and he's not a puncher at all. Fury was also staggered by journeyman Nicolai Firtha and put on the canvas by Neven Pajkic. See what I mean? Fury's winning his fights, but he's not doing it in an impressive fashion and the sad thing is he's still facing weak opponents.
Chisora's career was thought to be over after losses to Robert Helenius, Vitali Klitschko, Fury and David Haye. But Chisora's promoter has put him in with four opponents – Hector Alfredo Avila, Malik Scott, Edmund Gerber and Ondrej Pala – that he had the talent to beat. You can say that Chisora has turned his career around, but there's still major questions whether Chisora can hang with good opposition. Beating the likes of Avila, Gerber, Scott and Pala is nice, but we're not talking about quality, are we? We won't know how Chisora will do against a good heavyweight until he faces someone good again. He already failed four times and I suspect he'll fail a fifth time against Fury next summer.
Chisora could lose tonight against Johnson if the American fighter is able to throw some punches instead of just standing around and looking tired after three rounds. Johnson seems more like a 3-round fighter nowadays, and I'm not sure that he'll be able to fight hard enough to beat Chisora. He's got the physical tools to make Chisora look really bad in this fight, but it's doubtful that Johnson will have the stamina to school Chisora for 12 rounds the way that Fury and Vitali did.