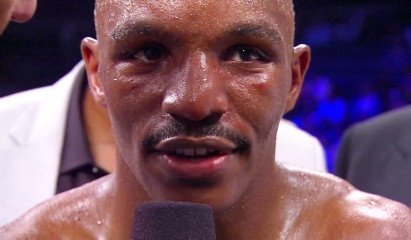 Depending on the extend of the damage in his injured left hand, IBF welterweight champion Devon Alexander (25-1, 14 KO's) is interested in getting back in the ring and fighting in September possibly against Floyd Mayweather Jr. if he wants that fight or Amir Khan whenever he's ready to fight.
Alexander hurt his left hand in the 1st round against Lee Purdy (20-4-1, 13 KO's) last night at the Boardwalk Hall in Atlantic City, New Jersey. Alexander easily beat Purdy by a 7th round stoppage after Purdy's trainer pulled him out of the fight to save him from sustaining needless punishment in a one-sided fight.
Alexander said after the fight "I hurt my hand in the 1st…of course I want that fight [with Floyd Mayweather Jr]. If that fight presents itself I'd welcome it. I heard Amir Khan call me out. If Khan wants that fight then I'll take that fight too. What makes Floyd better than me? I got skills; I'm fast like him. Any slick fighter, he has problems with. [Beating Khan] could be the way to Mayweather if I have to go the Khan route. He should want to fight the best. Why shouldn't he? I beat some of the best guys out there back to back."
It looks like Golden Boy Promotions wants Alexander to fight Khan next unless they choose to put Alexander or Khan in with Mayweather. It wouldn't be all that surprising, but I think they're going to let those two guys fight each other and then the winner of that fight will be the one that Mayweather faces in early 2014.
Alexander really schooled Lee Purdy last night in a fight that was pretty one-sided due to Alexander's speed and power advantage. Purdy walked straight in all night long and didn't use any head movement, and mostly he just stood covering up to try and block all the punches Alexander was hitting him with. Purdy did a good job of blocking shots, but he didn't do much in terms of throwing punches and that eventually led to the stoppage because he trainer chose to halt it when he failed to throw punches back.