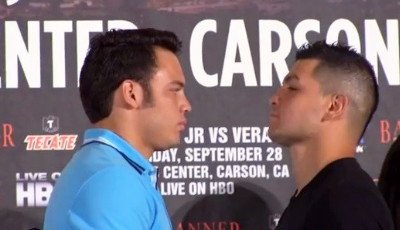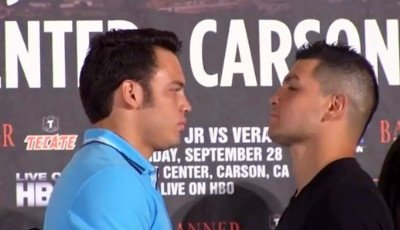 According to trainer Ronnie Shields, successful negotiations have taken place to append a new weigh-in limit for the big Saturday night showdown between Julio Cesar Chavez Jr. (46-1-1, 32 KOs) of Culiacan, Mexico and Bryan Vera (23-6, 14 KOs) of Austin, Texas.
After the fight card's final press conference convened this afternoon at the Crystal Ballroom of the Millennium Biltmore Hotel in Los Angeles, California, both parties, including promoters Top Rank, Inc. and Banner Promotions, reached an accord binding both combatants to a new weigh in limit of 173 pounds for this Friday afternoon's weigh in ceremony.
Although the added weight limit came as no surprise to most media members who had been following the current Chavez/Vera novella, veteran trainer Ronnie Shields made a surprise stipulation within the new fight agreement.
"The Bryan Vera/Chavez Jr. bout will now be a ten round contest," professed the heralded fight trainer. "This decision to accept the new weight limit of 173 pounds and follow through with the contest was entirely up to Bryan. If he wanted to accept the monetary compensation that came with the terms of the new weight limit, then we were willing to support his decision and go through with the bout as planned."
"But I didn't think it was right to give Chavez Jr. the added luxury of not having to make 168 pounds without setting up some new parameters on fight night. Without having to work and slim down to meet Bryan at 168 pounds, I thought it was only fair to change the bout from a twelve round contest to a ten round attraction."
Although most ringside observers wouldn't think a ten round stipulation would make much of a difference on fight night, the experienced trainer insists that the abridged contest will make a big difference in terms of pace and strategy.
"With the added weight limit of 173 pounds, it really doesn't change our strategy one bit…but the shortened rounds most certainly will change his," states Ronnie Shields. "We're really going to find out if Chavez is in fight shape with the contest being ten rounds. Chavez is traditionally a slow starter, but he'll really have to work at a much faster pace than he wants to in order to win a ten round fight."
Conventional wisdom would say that not having to melt down to 168 pounds would be a sizable advantage for Chavez leading into Saturday night's bout.
Despite giving away an additional five pounds on the scales during Friday's weigh in, the Houston, Texas, based trainer asserts that the added weight really won't help Chavez Junior as much as most think.
"If people think the extra weight is going to help Chavez absorb Bryan's offense on fight night, they're going to find out that Junior is going to have to absorb a lot of punishment due to the difference in conditioning."
"I'm really proud of Bryan. He has conducted himself like a true professional during this entire process, and Bryan plans to make the most of this big opportunity. He has worked extremely hard during this unusually long training period, and the fight fans are really going to see the difference on fight night."
The ten round main event is set to take place at the StubHub Center in Carson, California, and is slated to be broadcast on HBO Championship Boxing with a start time of 10:15PM EST/PST.
The weigh in is scheduled for 6PM EST/3PM PST on Friday afternoon.