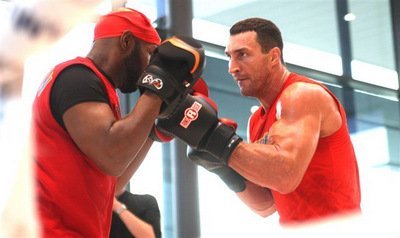 The Channel Of Champions, BoxNation (Sky Ch. 437/Virgin Ch. 546), is delighted to announce that it will show the year's biggest heavyweight fight between Wladimir Klitschko and Alexander Povetkin live and exclusive in the UK.
Klitschko, regarded as the world's best heavyweight, puts his WBO/IBF/WBA Super/IBO World titles on the line in his hardest and riskiest fight to date against the undefeated challenger Povetkin, who holds the regular WBA world title, on Saturday 5th October at the Olimpyskiy Arena in Moscow.
Not only does it pit two world champions against each other, but two Olympic Champions with Klitschko winning gold for Ukraine in 1996 and Povetkin capturing gold for Russia in 2004.
Such was the demand to stage the fight, a Russian promoter bid an incredible $23.3m, the third largest ever winning purse bid, to ensure that the fight went on in the Russian capital.
Along with brother Vitali, Wladimir has been the decades most dominant heavyweight, seeing off all challengers put before him. A near 17-year career has seen him win 60 out of 63 fights, with an amazing 51 knockouts in two reigns as world champion and unifying the belts. If he defeats Povetkin he will go into second place as the longest reigning heavyweight world champion in history, passing the great Larry Holmes with only the legendary Joe Louis ahead of him.
Hammer-fisted Povetkin has won all 26 of his fights with 18 coming by knockout. He smashed Andrzej Wawrzyk inside three rounds in May to defend his title for the fourth time and prior to that he destroyed former world champion Hasim Rahman in two. Many believe Povetkin will be the man to end the Klitschkos' grip of boxing's flagship division.
BoxNation General Manager, Jim McMunn, said "Kitschko v Povetkin is by far the most exciting heavyweight contest out there bar none. We were determined to have it on BoxNation and again we have delivered. A few weeks ago BoxNation brought you the greatest boxer in the world with Floyd Mayweather and now it is the world's greatest heavyweight in Wladimir Klitschko. Povetkin is a serious challenger and this is undoubtedly the biggest heavyweight battle of 2013. I know our viewers will absolutely love it."
The BoxNation show will also feature the European Cruiserweight clash between Mateusz Masternak and Grigory Drozd; former WBA World Heavyweight Champion Ruslan Chagaev against Juvo Pudar for the PABA Heavyweight title; Russian cruiserweight prospect Rakhim Chakhkiev, plus the fast-rising Russian talent Fedor Chudinov.
Klitschko v Povetkin is live and exclusive on BoxNation (Sky Ch. 437/Virgin Ch. 546) on Saturday 5th October from 8pm. Join at www.boxnation.com
About BoxNation
BoxNation, the Channel of Champions and proud partner of Rainham Steel, is the UK's first dedicated subscription boxing channel. For £10* a month and no minimum term customers can enjoy great value live and exclusive fights, classic fight footage, magazine shows and interviews with current and former fighters.
BoxNation is proud to support Fight for Peace, a charity that uses boxing and martial arts combined with education and personal development to realise the potential of young people in communities that suffer from crime and violence. Buy LUTA www.luta.co.uk clothing and support Fight for Peace.
Previous highlights have included Khan vs Diaz, Mayweather vs Alvarez and Haye vs Chisora.
The channel is available on Sky (ch 437), Virgin (ch 546), online at Livesport.tv and via iPhone, iPad or Android.
BoxNation is also available to commercial premises (inc. pubs, clubs and casino's) in the UK and Ireland, for more information on a commercial subscription please call 0844 842 7700
For more information visit www.boxnation.com
*Plus £10 one off registration fee for Sky TV and new Livesport.tv customers.