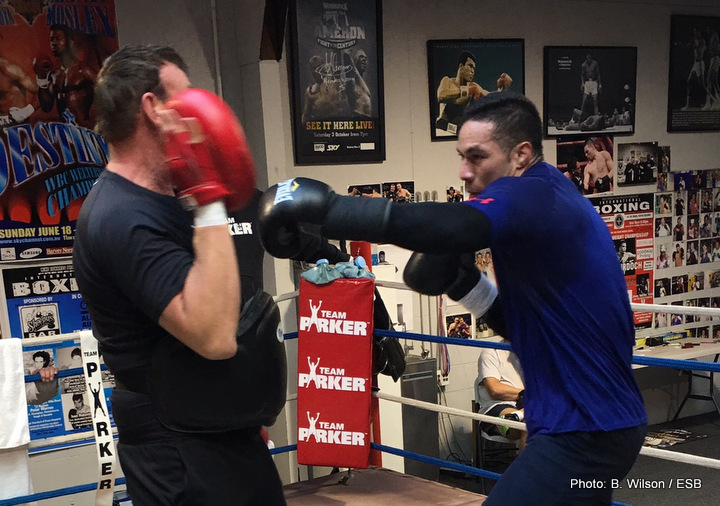 In what has to be looked at as a quite amazingly quick return to action for a world-ranked, indeed IBF mandatory heavyweight contender, New Zealand's Joseph Parker will fight again in a couple of months. According to The New Zealand Herald, a Parker-Solomon Haumono fight was signed today, with Haumono due in Auckland later today for the official announcement of the July bout. In a day where most big-name heavyweights fight twice, maybe three times a year, Parker's quick return – from his tough and demanding 12-round points win over Carlos Takam this past Saturday – shows how hungry the 24-year-old is.
Okay, 40-year-old Haumono, 24-2-2(21) is not on Parker's level, but any fight between two big men can be a hard one for either guy. Parker earned a shot at Anthony Joshua's IBF belt with the win over Takam, and he clearly wants to remain as sharp as he can, whilst also making the improvements he acknowledges he has to make ahead of what will be one of the biggest fights ever for a New Zealander. It's still too early to say whether or not Parker can unseat Joshua as the newest best young heavyweight out there, but Parker is going to give it his all in trying, that much looks clear.
Parker, 19-0(16) will likely get the chance to try out a few new moves against Haumono. The 40-year-old has stepped up in class just once, when he met the experienced Kevin Johnson in April of 2013. Johnson, who still had some ambition at the time, scored a 10th-round KO in Melbourne, Australia.
That loss marks the only time Haumono has ever been stopped and since then he has won four straight, but Parker also figures to have too much power, skill and class for him. The fight is expected to attract a big crowd and plenty of media attention in Christchurch (the probable location of the fight), but there looks to be only one winner.
Still, Parker should be commended for staying as active as he possibly can.