A tantalizing junior middleweight championship matchup between Jermell Charlo and Erickson Lubin might as well be the main event on Showtime's Tripleheader this Saturday. Both Americans are undefeated, Charlo entering his prime and Lubin isn't far off considering Erickson just turned 22 at the beginning of October. Nowadays (generally speaking) it's a rarity for young fighters to risk losing their '0' this early in a promising career. It's a breath of fresh air so let's hope the media and fans appreciate it instead of downgrading one of them at the end. Especially if it's Erickson, a phenom who is taking a major step up in class challenging Jermell for his 154-pound strap.
The opening bout is an intriguing one, pairing a grizzled-vet in Austin Trout against a young not quite in his prime champion Jarret Hurd. The card is headlined by Cuban standout Erislandy Lara facing a prospect in Terell Guasha. The amateur pedigree between the two could lead to a non-combative bout.
Unless old age bites Lara in the butt, look for the Cuban technician to win wide on the scorecards. Of course we must give Guasha a slim chance to pull what would be quite a shocker. It just doesn't seem like he's been groomed for this type of fight. That said, we could say the same thing about the more powerful and flashy Erickson Lubin.
My Official Prediction is Erislandy Lara by Unanimous Decision.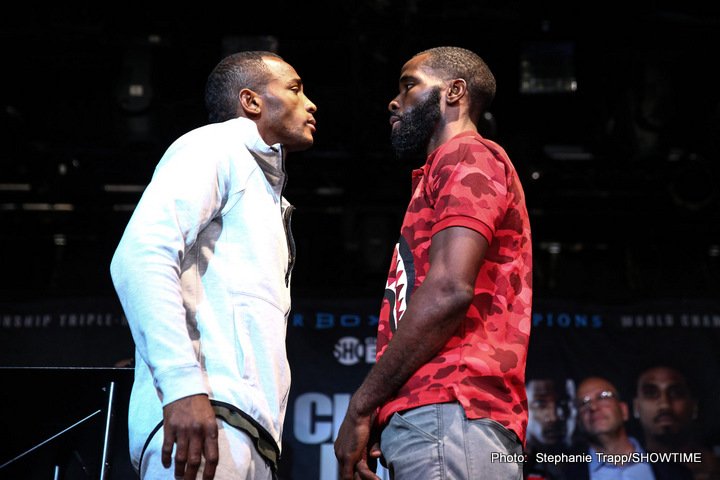 Tracking back to the opening bout Hurd vs. Trout, is a great way to kickoff the telecast. A classic boxer versus puncher dilemma on paper will play out nicely in the ring. Trout's outside ability combined with experience on the highest level gives him a clear edge. Two things could make this a more competitive fight than the one I see. The first is Austin Trout not having fought since May 2016 so he will likely need a few rounds to shake the rust. Trout relies heavily on being sharp and the time off could result in a flat performance.
Secondly, Hurd must improve on his last outing in which he was downright horrible defensively. Using a jab and throwing some head movement into the mix would greatly benefit Hurd. I don't expect the Maryland native to summon the powers of Pernell Whitaker just as I believe Trout will be prepared from the opening bell.
Trout will get a fast start by using his skills on the outside constantly keeping Hurd on hunt rather than being able to sit down on his punches. Hurd may not be a great defender however he does have an almost stubborn focus on maintaining pressure. With Trout up on the judge's cards Hurd will land something big much in the way he did knocking out Tony Harrison. The problem for Jarrett, Austin Trout ain't Harrison and will recoup by tying up to regain his senses.
My Official Prediction is Austin Trout by Majority Decision.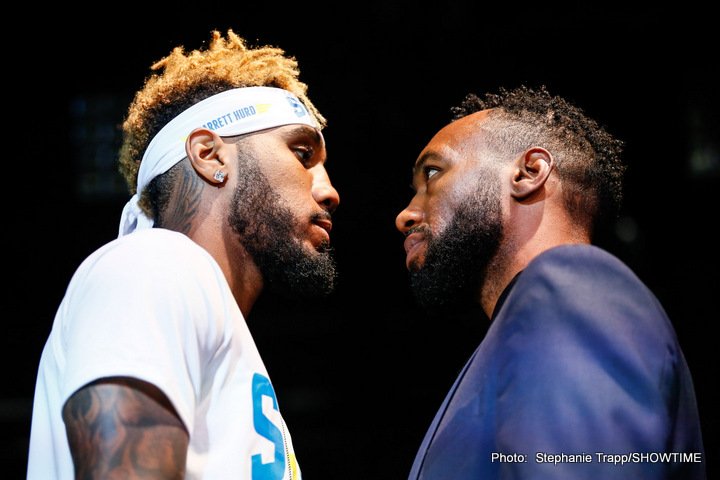 As far as the best fight of the night goes it's a tossup in this scribes opinion. Brute force and explosive power in both fists all favor young Lubin. A great jab and the mindset to block out the moment falls to Charlo. Something's gotta give when these two young stallions throw down this Saturday night at the Barclays Center in Brooklyn.
On his way up the junior middleweight ladder, Lubin like many talented top prospects was hell bent on showing everyone his knockout capabilities. Many times you'll see this behavior and it usually works one of two ways. Either said fighter tightens up his guard and becomes more aware on defense or those bad habits created from swinging wildly remain throughout a career.
My educated guess is Erickson Lubin will be noticeably better overall and less sloppy as seen recently. It will be interesting to see if Charlo sticks to his guns or gets out of character trying to prove his newfound power is real. On my weekly podcast I literally waited to the end of the episode to pick a winner because I was stuck. I'm still stuck somewhat on the outcome but I do have an idea of how it will look.
Charlo will be pumping a crisp jab using lateral movement attempting to set traps. Lubin will take the lead as far as style but using a more measured approach that is until he needs to rally from what should be Charlo ahead on points. We're going to find out a lot about both men when it comes to chins and mental toughness. The safe pick is Charlo via close decision, many media members and fans alike think Lubin has bit off more than he can chew. And even though I lean towards the safe route it won't come without a serious fight. I fear in the mid to late rounds Lubin will believe in his power to the point of it being detrimental.
My Official Prediction is Jermell Charlo by Split-Decision.
Written by Chris Carlson Host/Producer of The Rope A Dope Radio Podcast Available on Apple Podcast (ITunes), Player.FM, Stitcher, Tunein, www.blogtalkradio.com/ropeadoperadio & More! Follow on Twitter @RopeADopeRadio