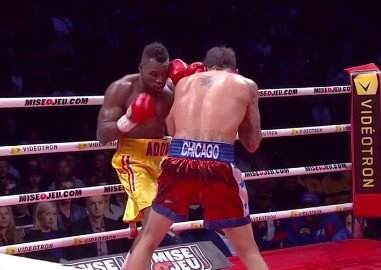 By Joseph Herron – After becoming the mandatory IBF title challenger by knocking out Super Middleweight contender Don "Da Bomb" George on October 12th at the Bell Centre in Montreal, Quebec, Canada, Adonis "Superman" Stevenson (19-1, 16 KOs) is ready to take on the best at 168 according the his friend and trainer Javan "Sugar" Hill.
"Adonis showed me a lot in his victory over Don George," professes the nephew of boxing legend Emanuel Steward. "Even with an injured left hand, he showed a lot of poise and stuck to the game plan of out-boxing George. Even after he had a lot of good exchanges with Don, he went right back to the focus of boxing instead of slugging it out with him."
"Even with the injury to his power hand bothering him, Adonis was able to turn it up and get Don George out of there in the twelfth round. Adonis really showed me that he's ready to fight anyone in the world."
Although Stevenson is the next in line to face the current IBF Super Middleweight Champion Carl "The Cobra" Froch, the talented young trainer claims that Adonis is willing to fight any of the major title holders in the packed 168 pound division.
"Without a doubt, Adonis is ready for any one of the three recognized major world champions at Super Middleweight; Carl Froch, Arthur Abraham, and Andre Ward. Adonis really proved a lot on October 12th. With the pressure of fighting a big puncher like Don George in an IBF title eliminator, and having to overcome the adversity of decisively beating a tough opponent with an injured hand, Adonis proved that he is worthy of an opportunity for a world title."
But despite achieving the distinction of being the next in line to face the current IBF Champ, it seems that Adonis will have to wait until the muddled IBF championship picture develops before he can get his opportunity to face the eventual title holder.
This weekend, former IBF Champion Lucian Bute will face the imposing menace from Russia, Denis Grachev, who shocked the boxing world earlier this year by knocking out highly touted Super Middleweight prospect Ismail Sillakh on ESPN's "Friday Night Fights".
Also, current IBF Champion Carl "The Cobra" Froch will make his first voluntary title defense against Yusaf Mack at the Capital FM Arena in Nottingham, England on November 17th.
If both Bute and Froch are successful in defeating their respective opponents, the two top rated Super Middleweights have plans to step in the ring once again during the first quarter of 2013. An eventual rematch between Lucian Bute and Carl Froch was factored in as a stipulation of their initial fight contract, which was negotiated back in March.
Even though most fight fans and boxing scribes feel that a second meeting isn't merited, due to one sided nature of their first bout on May 26th, the two fighters are contractually obligated to fulfill their plans of fighting once more in Bute's adopted hometown of Montreal, Canada.
While there's no guarantee the IBF will honor the pre-negotiated arrangement between Froch and Bute, the former Detroit Police Officer turned fight trainer surprisingly hopes that the IBF respects the two fighters' request.
"I know that it might take some time for this scenario to play out, but I think it's important for Adonis to become a world champion by beating a recognized Super Middleweight champion like Froch or Bute. Although I'm sure his handlers will take the opportunity to fight for the vacant IBF world title if it's presented that way, I hope Adonis gets the chance to fight for the world title against either Froch or Bute."
"Also, even though Adonis is next in line to fight for the IBF title, he would be more than happy to take on either Abraham or Ward as well. Although I don't see those guys taking on Adonis unless they absolutely have to, my fighter would be ready to face either one of those two champions anytime."
Even at the accelerated age of 35 years old, Sugar Hill claims that Adonis Stevenson has plenty of time to reign supreme over the packed Super Middleweight division.
"The impressive thing about Adonis is that he is constantly improving," claims the astute fight trainer. "Since working with all of the fighters at the Kronk Gym, Adonis has drastically increased his skill level and has been improving with each fight."
"I have no doubt that Adonis Stevenson will eventually become the Super Middleweight world champion in 2013."