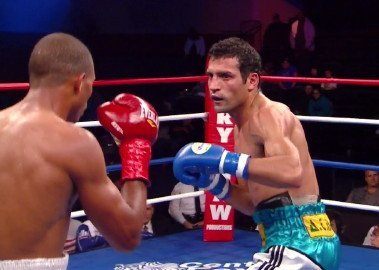 By Emilio Camacho, Esq. – Thomas Dulorme was supposed to be the next Puerto Rican boxing star. He was supposed to be the Felix Trinidad. That's gone.
This was important because Puerto Rico is losing its big stars. Miguel Cotto is getting old and has few fights left. Ivan Calderon retired after being defeated because he cannot compete at the elite level any longer. Juan Manuel Lopez was crushed by Orlando Salido. Twice. Wilfredo Vazquez Jr. was defeated by Jorge Arce and Nonito Donaire. Carlos Quintana and Kermit Cintron are not "A" class fighters. In short, Puerto Rico was looking at Thomas Dulorme as the next Puerto Rican hope. Unfortunately, they pushed him far too soon.
Last Saturday, Luis Carlos Abregu, a fighter from Argentina, crushed Dulorme. After a big right hand landed on Dulorme in the 3rd round, sending him to the canvas, there was no way he could recover. In the end, the corner stopped the fight and Puerto Rico's hope for Dulorme as its next star, if any, faded. In all fairness, Dulorme is only 22 years of age and he could always come back stronger (Pacquiao is a good example). However, there is nothing like an undefeated fighter who is on top of the sport (this is Mayweather's biggest argument for his greatness). For now, the search for the next Puerto Rican star continues.
But let us talk about Argentina now. Although Argentina has not produced another Carlos Monzon, the last few years have given us a wave of solid entertaining fighters from Argentina who can compete at the top level of the sport. Most importantly, these fighters are fun to watch. They include Marcos Maidana, Luis Carlos Abregu, Lucas Mattyse, and, of course, the Sergio Martinez. All of these fighters have been a great for the sport, especially for hard core fans.
If we think about the implications for a moment, we can come up with all types of matchups that we would love to see: Rios v Matthysse; Pacquiao v Matthysse; Marquez v Matthysse; Bradley v Matthysse; Garcia v Matthysse; Khan v Matthysse; Rios v Maidana; Bradley v Maidana; Abregu v Bradley II; Abregu v Peterson; Matinez v. Mayweather; Martinez v Ward; Martinez v Golovkin; Martinez v Pirog; Martinez v Quillin; etc., etc. In short we have much to work with because all of these fighters bring it every time. No excuses.
The point is that as Argentina continues to excel in boxing the fans continue to win. For this reason, it is worth writing about it. So, whatever they are doing down there, keep it up. We can only hope that many other young athletes are inspired by these boxers and we see many more of them in main events. For now, let us hope that one or more of the matchups I mentioned above comes true. The future looks bright!
P.S. Emmanuel Stewart was the greatest trainer as measured by his impact in the sport. He will be greatly missed.
P.P.S. The fact that Orlando Cruz felt comfortable enough to share who he is at the most personal level speaks highly about Boxing. Hopefully other Athletes are inspired by his courage and people become more accepting of those who are diverse.