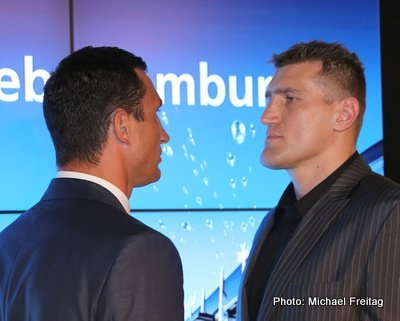 By James Slater – Those fans who have been waiting oh, so long to see heavyweight king Wladimir Klitschko's formidable skills tested to the full might, just might be about to see the 36-year-old in a real fight. Hardly pushed at all since his first encounter with the hard-hitting Samuel Peter, way back in 2005 (although to be fair, David Haye did win a couple of sessions during his July 2011 challenge of Wlladimir), Klitschko has gone through the likes of Ruslan Chagaev, Jean Marc Mormeck and, last time out, Tony Thompson, like a hot knife through warm butter.
But the seemingly laughably easy fights may be at an end for the unified WBA, WBO, IBF, IBO ruler. Next up for Wladimir is unbeaten but unproven (at the highest level) Polish banger Mariusz Wach. No, this fight, set for Nov. 10th, doesn't look exactly like an ultra-dangerous fight for Wladimir, but the outside chance of a potential banana skin awaits him all the same. Not only is Wach, 27-0(15) a pretty stiff puncher, with the right hand especially, he is also able to look Wladimir directly in the eye. Much has been made of the fact that never before has Wladimir faced so tall an adversary, and, with the sad passing of his long-time trainer and friend Emanuel Steward, this fight could possibly prove difficult for Klitschko.
No-one knows how well Wladimir and replacement corner-man (at least for this fight) Johnathon Banks will gel, and no-one knows how either man will cope if a crisis has to be dealt with in the corner. What if Wladimir gets tagged, hurt and wobbled at some point? Without Emanuel's steady nerve, experience and ability to cope with anything in the corner to help him, how might Klitschko get by? This fight, with it's subplots and everything else, might just prove worth tuning in for.
Assuming Wladimir survives the wrath of Wach and is able to put the tragic death of his good friend behind him (at least as far as performing in the ring goes), Wladimir will then move ahead to his next fight; his 63rd! The WBA has just ruled that Wladimir must face their "regular" heavyweight champ, Alexander Povetkin, in the first quarter of next year. We've been waiting for this fight – arguably the last piece of the alphabelt jigsaw the two Klitswchkos need so as to complete their set – for the longest time.
And while this match-up is not seen as the heavyweight version of Mayweather-Pacquiao, it is a fight worth seeing. Povetkin may once again decide he is not yet "ready" for Wladimir, and step aside to allow the champ to take another voluntary defence, but if not, and if the unbeaten Russian star truly wants the fight, we could get another interesting bout in early 2013. Heck, Wladimir may even lose the odd round should this one go ahead! Povetkin, at one point looking bored and listless due to a stagnating career, has looked pretty good in his last four outings.
The recent good news that reported how unbeaten duo Tyson Fury and Denis Boytsov have agreed to fight on Dec. 1st, in a WBC eliminator set for Belfast, Northern Ireland, may also result in providing Wladimir with another intriguing challenge. With big brother Vitali looking at the exit door, maybe Wladimir will look to add his sibling's vacated WBC strap to his already stuffed trophy cabinet. Wladimir against either Russia's Boytsov or Britain's Fury would be a sellable event. Age, some fans argue, must catch up with Wladimir at some stage, either age or the dangers of becoming somewhat bored with the sport he has dominated for so long, and maybe Fury or Boytsov will be in the right place at the right time. Maybe.
It would still take a brave man to walk into a bookmakers and place a significant wager on Wladimir Klitschko losing a fight in the next 12 months, but the four fighters mentioned above might have it in them to each give "Dr. Steel Hammer" a hard night's work.
Wach gets his chance first, a week on Saturday.