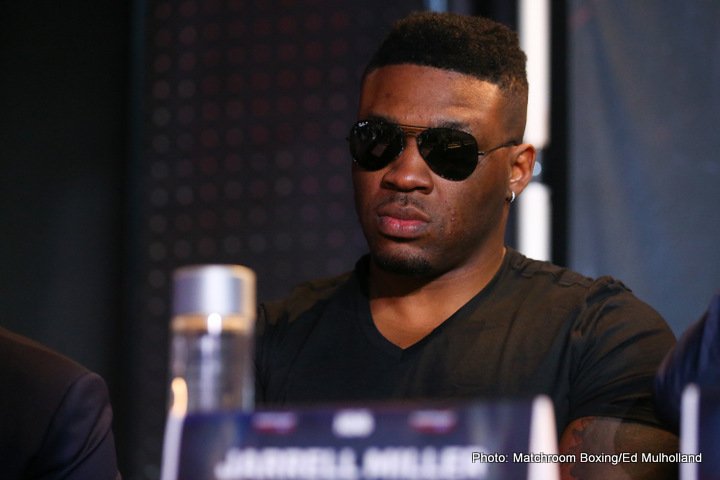 Unbeaten New Yorker Jarrell Miller says he is ready and willing to take on Britain's Dillian Whyte (who was recently elevated to the number-one position in the WBC heavyweight rankings) in an Eddie Hearn show in the US next April. As fans may know, Miller and Whyte have been going back and forth on social media for some time now, with both contenders vowing to KO the other.
And Miller, last seen slowly but surely chopping down (or at least TKO'ing) the equally big Mariusz Wach, says he will fight Whyte (last seen looking less than impressive in decisioning an admittedly reluctant and very disappointing Robert Helenius) in a final eliminator for a shot at either WBC boss Deontay Wilder or WBA/IBF champ Anthony Joshua.
"Yeah, I think Dillian Whyte would be the perfect guy to knock the hell out," Miller, AKA "Big Baby" told Sky Sports. "He fought a taxi can driver on his American debut (Whyte stopping Malcolm Tann in August) that no-on really cared about. I think this would be an awesome fight, for me and Dillian to headline in April – me knocking Whyte out in four or five rounds. I think the eliminator would be one of us fight either Deontay Wilder or Anthony Joshua right after that. Definitely after that fight, I should be in the mandatory position. There is no ifs and buts about it."
So, would the winner of Miller and Whyte be deserving of a shot at Wilder or AJ? It could be argued how, aside from fighting each other or WBO champ Joseph Parker, Wilder and Joshua's biggest and best challenge would come from the winner of Miller-Whyte (Tyson Fury not yet back in the picture, although he promises to be by next April).
Both reigning champions need challengers and both Whyte (beaten only by AJ in a great-action, non-title fight a couple of years ago) and Miller have credentials. Who wins out of the two of them? This is certainly an interesting fight and if Whyte agrees to face Miller in the US we should get quite a firefight.