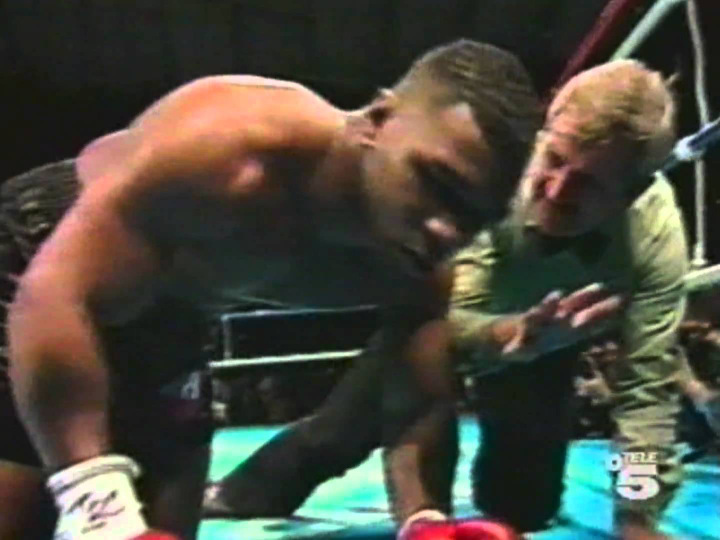 27 years ago today it happened: Mike Tyson, the "unbeatable" heavyweight king, was sensationally beaten up, defeated and knocked out in what still ranks as the biggest sporting upset in history. Whopping great 42-1 underdog James "Buster" Douglas pulled off the almighty stunner; a shock so great it commanded front page status on just about every newspaper on the planet the following day.
Fight fans are well acquainted with what went down in Tokyo, Japan on February 11 – how the enigmatic Don King tried to have Buster's hard-earned victory overturned due to the alleged "long count" in the eighth round, when Tyson had felled Douglas with an uppercut, temporarily seeming to have averted defeat. Fans too know all about how exciting the fight was and how sensational Douglas looked. Today, some fans wonder how great Douglas could have been had he fought with as much passion, as much heart, as much desire in every fight.
Could Buster have been one of the best ever, or did he merely put everything in place for one night only against an overconfident, ill-trained, mentally unfocused champion? Douglas seemed to have the full package. At 6'3," he was a big, strong heavyweight, he had a fine left jab, a good chin, effective punching power, skill and natural talent. When he was in top shape, Douglas also had a good engine. But that was the problem; getting Buster in top shape. The man from Columbus, Ohio gave his talents the respect they deserved ahead of the Tyson fight – inspired as we know by the recent death of his mother – and he trained like a true champion. But this was very much a one night only affair; Buster never pushed himself as hard again (nor had he ever worked so hard before).
And due to this it's hard to say one way or the other how good Douglas could have been. Discipline and desire as as important as punching power, speed, or any other attributes a fighter may have. Had we seen an immediate Douglas-Tyson rematch, it's extremely likely "Iron Mike" would have regained his crown in pretty swift fashion. We all saw how pathetically out of shape a now enormously rich Douglas was in his next fight after Tyson, the disastrous defence against Evander Holyfield. Had Tyson met this version of Douglas, the fight would not have lasted a round.
However, if Douglas had worked his ass off in training and had somehow managed to remain ultra-motivated and strong, we might have seen Buster beat Holyfield (maybe in a somewhat similar fight to the epic Riddick Bowe-Holyfield fight) and then repeat the win over Tyson (maybe via decision victory, Tyson being fully fit himself in the rematch). But of course, this is all mere conjecture.
We will never know how great Douglas could perhaps have been. It's frustrating, as on this day 27 years ago we watched a superb heavyweight fighter go to work in grand style.