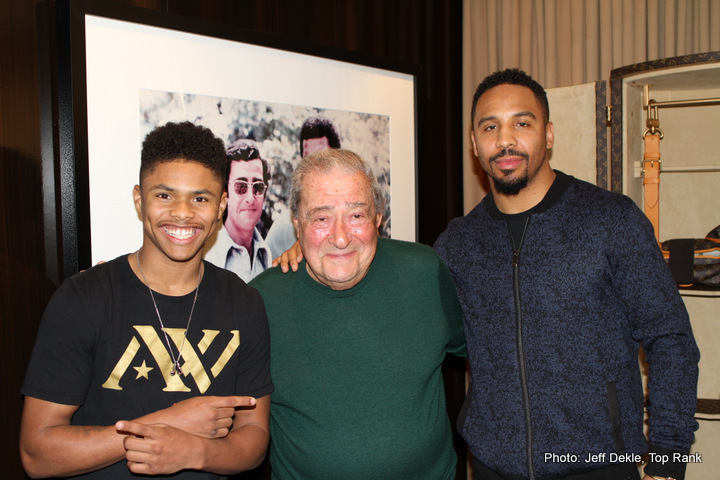 Gifted amateur sensation Shakur Stevenson, the 19 year-old who helped light up the Rio Olympics, was in hot demand almost as soon as his tenure at the games was over. Floyd Mayweather visited with Stevenson – who picked up a silver medal at bantamweight at last year's games – and many people thought Floyd's TMT outfit would soon have Stevenson's ultra-promising career signed, sealed and delivered.
Instead, and in something of a surprise, Bob Arum and his Top Rank group signed up Stevenson yesterday; as Arum confirmed when speaking with RingTV.com. Arum, who said he didn't go chasing after Stevenson, said that the teenager nevertheless "made the right choice."
"He's like a Sugar Ray Leonard," Arum told The Bible of Boxing when singing Stevenson's praises. "We didn't chase after anybody. We know for sure that a lot of other entities offered him a lot more money. The kid made the right choice because he knew we had the ability to take his talents and develop them to the best possible point. We do have a track record for this."
A huge addition to Arum's Top Rank stable, expectations are very high for Stevenson. Arum says that although he has not yet decided which of his upcoming cards Stevenson's pro debut will feature on, the pro debut will take place in April, at featherweight. Arum has of course worked with many, many great fighters during his very long and hugely successful career in the sport, and if he sees another Sugar Ray Leonard when he looks at the gifted southpaw, then we should get as excited as he clearly is.
A penny for Floyd Mayweather's thoughts at this time though! Mayweather, who was promoted by Arum for a while, seemingly ages ago now, has not always said the nicest things about the hard working 85-year-old, and Floyd is bound to be at least a little chagrined at Arum beating him to it in getting Stevenson's signature. Even if, as Arum says, Top Rank didn't exactly go all-out to secure Stevenson's considerable talents.
The next Sugar Ray, the next Oscar De La Hoya – maybe Stevenson could be the next Floyd Mayweather.