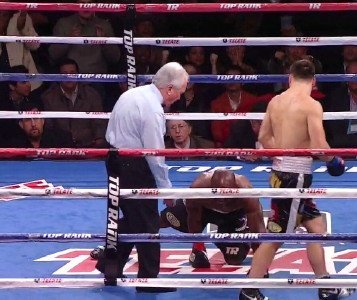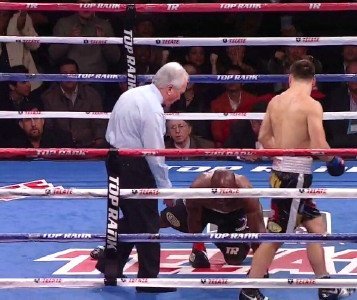 The negotiations between Manny Pacquiao (55-5-2, 38 KO's) and WBO welterweight champion Timothy Bradley (31-0, 12 KO's) are dragging out a lot longer than what many boxing experts expected it to for their proposed April 12th rematch at the MGM Grand in Las Vegas, Nevada. According to Steve Kim, Bradley is asking for an $8 million guarantee for the rematch with Pacquiao, which is above the $5 million that he received in their previous fight in June of 2012.
That fight brought in close to 900,000 PPV buys. But with Pacquiao losing that one, and then getting stopped by Juan Manuel Marquez in December of 2012, the interest in Pacquiao's fights may have dropped off with boxing fans. His last fight against Brandon Rios brought in just 475,000 PPV buys. What this means is it may be difficult to find even more money to pay Bradley if there's no way of guaranteeing that the Pacquiao-Bradley fight will bring in anymore than 500,000 buys.
It might be a reach to assume that the fight will bring in close to 900,000 again, because things have changed since that time. As it is the Bradley-Pacquiao was kind of boring to watch due to Bradley's constant movement. Asking boxing fans to pay to see basically rerun of that fight is probably not the smartest thing that Top Rank can do.
There's not a huge cry for Pacquiao to fight Bradley again, other than from some of Pacquiao's fans who want to see him avenge the loss and recapture his WBO strap. If Bradley is asking for more money in what could be a fight that generates even less than the first fight, it might be wise for Top Rank and Pacquiao to move on and fight someone else.
Top Rank has Provodnikov for one fight. They can take that bout instead. Provodnikov would come in at a cheaper asking price. The fight will probably make less than if Pacquiao were to fight Bradley, but I doubt it will significantly less. It's not as if Bradley has a huge fan base. Most of the fans that will be watching Pacquiao-Bradley II will be the one that would pay to see Pacquiao fight even if it were an exhibition bout. These fans love Pacquiao and just want to see him fight.
To bring Pacquiao back up to where he was before in getting 1 million PPV buys per fight, Arum is going to need to start matching him up against interesting opponents. If he doesn't have the guys in his Top Rank stable to do that, which it doesn't appear that he does, then Arum needs to start matching him up against fighters from other stables. Provodnikov and Bradley aren't going to bring Pacquiao back up to the 1 million buys category.
Arum can have 4-5 rematches with each of them, and the fights will likely bring in less and less each time out. Arum needs to refresh the opponents for Pacquiao and start looking at matching him against guys that the boxing public actually care about seeing him fight. As I said before, there's no real interest in a Pacquiao-Bradley II rematch, and not much for a fight between Pacquiao former ESPN fighter Provodnikov. Arum might as well scratch both guys off the list and move up Mikey Garcia to welterweight and put him in with Pacquiao on April 12th, because I think that fight would easily bring in more PPV buys that Pacquiao fighting Bradley or Provodnikov.