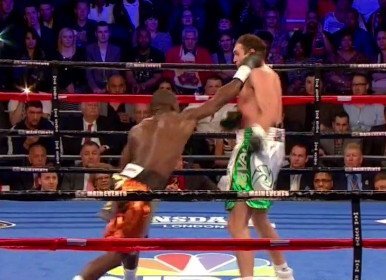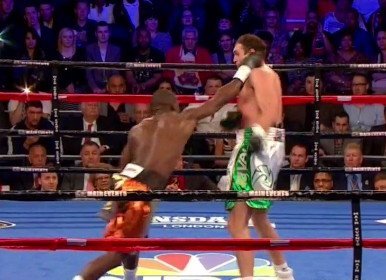 Before Tyson Fury wasted a lot of time trying to get a fight against David Haye, he was ranked high by the WBC and within position to compete for the WBC heavyweight title. But with two fights against Haye falling through, Fury now finds himself having been dropped to No.8 by the World Boxing Council, and he's nowhere near getting a crack at that belt. Needless to say, Fury's not happy about it and he complained at length about it on Buncey's Boxing Podcast this week.
Here's some of what Fury said:
"There was three people eligible to fight for the vacant WBC title. One of them was me because I beat Kevin Johnson in a WBC eliminator. Another one was Bermane Stiverne because he beat Chris Arreola in an eliminator. And Chris Arreola won a semi-final eliminator against Seth Mitchell. But instead of letting me fight Bermaine Stiverne for the vacant WBC, they've only gone and put him against a man he's already beaten. Bermaine Stiverne's last fight was against Arreola, and he already beat him comfortable…They've [WBC] frozen me out there."
Fury didn't stay active last year, he didn't look good in his only fight against Steve Cunningham, and he turned down a fight against Kubrat Pulev. All those things worked against Fury in the WBC's rankings. At the same time, contenders like Deontay Wilder, Mike Perez and even Dereck Chisora all looked good in winning their fights in 2013. They looked better than Fury did with his fight against Cunningham. Bryant Jennings, #4 WBC, is the only one where the WBC seems to have messed up their rankings, because he only fought once in 2013 in beating Andrey Fedosov by a 6th round stoppage. That shouldn't have been enough for Jennings to be given a #4 rankings over guys that looked better than he did and/or fought the superior competition. Fighting only once a year as a contender shouldn't result in a fighter being pushed up the rankings.
If Fury wants a crack at the WBC belt then he needs to get busy. He had a chance to fight Deontay Wilder, but there was no follow through on Fury's part. He retired – or at least he said he was retiring – and that sent the wrong message to the sanctioning bodies.