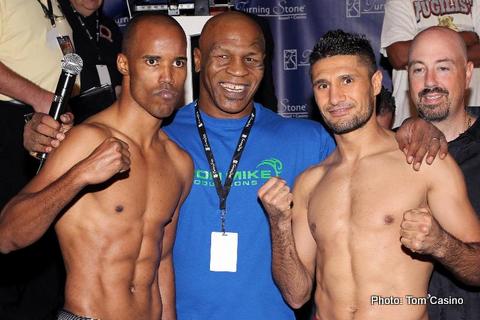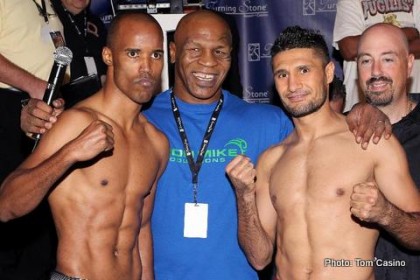 Most people who have been around the boxing industry for a considerable amount of time will tell you that the only thing crazier than actually stepping in the ring is getting into the promotional side of the sport.
Being a fight promoter is not for the faint of heart. It's a brutal trade that is more than deserving of its "hurt business" moniker…and if you're one of the few promoters who can actually make money from staging live cards, while continually trying to sign the best talent available, well then you're a blessed individual.
On Friday, August 23rd, from the Turning Stone Resort & Casino in Verona, New York, Hall of Fame fighter and former Heavyweight Champion Mike Tyson will try his luck in the promotional realm. On ESPN 's "Friday Night Fights" season finale, Iron Mike Productions will present two title fights in the 130 and 126 pound weight divisions.
In the opening bout of the broadcast, undefeated Claudio "The Matrix" Marrero (14-0, 11 KOs) will take on hard punching Jesus Marcelo Andres Cuellar (22-1, 18 KOs) for the interim WBA Featherweight title, and in the main event of the evening, current IBF Super Featherweight Champion Argenis Mendez (21-2, 11 KOs) of the Dominican Republic will defend his title against Afghanistan native Urash Usmanee (20-1, 10 KOs).
In an industry that has been predominately controlled by two highly publicized promotional groups, Top Rank, Inc. and Golden Boy Promotions, Iron Mike Productions is hoping to make an immediate impact in the sport.
Vice President of operations, Henry Rivalta, speaks on the importance of tonight's fight card in Verona, New York.
"We want to put on the best fights possible for the fans," claims the 2013 Florida Boxing Hall of Fame inductee. "They deserve to see the great match-ups, and we're giving them two great title bouts in our promotional debut under the Iron Mike Productions banner. It's all about the fans."
Marrero and Mendez are two of the brightest young stars in the boxing galaxy, but have somewhat flown under the pugilistic radar due to a lack of mainstream network exposure.
Rivalta is confident that tonight's "FNF" broadcast will spark a reversal of fortune.
"Everyone will finally get a chance to see some of great young talent in our exciting stable of fighters on ESPN, and we're hoping their performances lead to bigger opportunities. We want to work with other promoters in staging championship fights with other top fighters in the Featherweight and Super Featherweight divisions. Because it's all about getting the opportunities for these hard working fighters and pitting them against the best competition available. The fans want to see the best fight the best."
Although the newly formed union between Acquinity Sports and Iron Mike Tyson has big plans for its ever growing stable of fighters, sensational performances from Mendez and Marrero are absolutely vital in reaching their ultimate goal.
"The future is definitely bright for Argenis Mendez and Claudio Marrero, but they both have to win and win impressively," admits Henry Rivalta. "It won't be easy. We all witnessed how tough Arash Usmanee was earlier this year when he, in my opinion, should have received the victory against Rances Barthelemy on Friday Night Fights."
"We thought he deserved to get the decision on the FNF season opener, so we gave him a shot at Argenis' IBF Super Featherweight title. We felt it was the right thing to do."
"Although we know Usmanee is coming to fight, Argenis showed what he was truly capable of when he knocked out Juan Carlos Salgado to capture the title, and we're very confident that he can put on a similar performance against Usmanee. We're expecting a great fight."
The season finale of Friday Night Fights will be broadcast on ESPN 2 and ESPN 360, with a start time of 9PM EST.