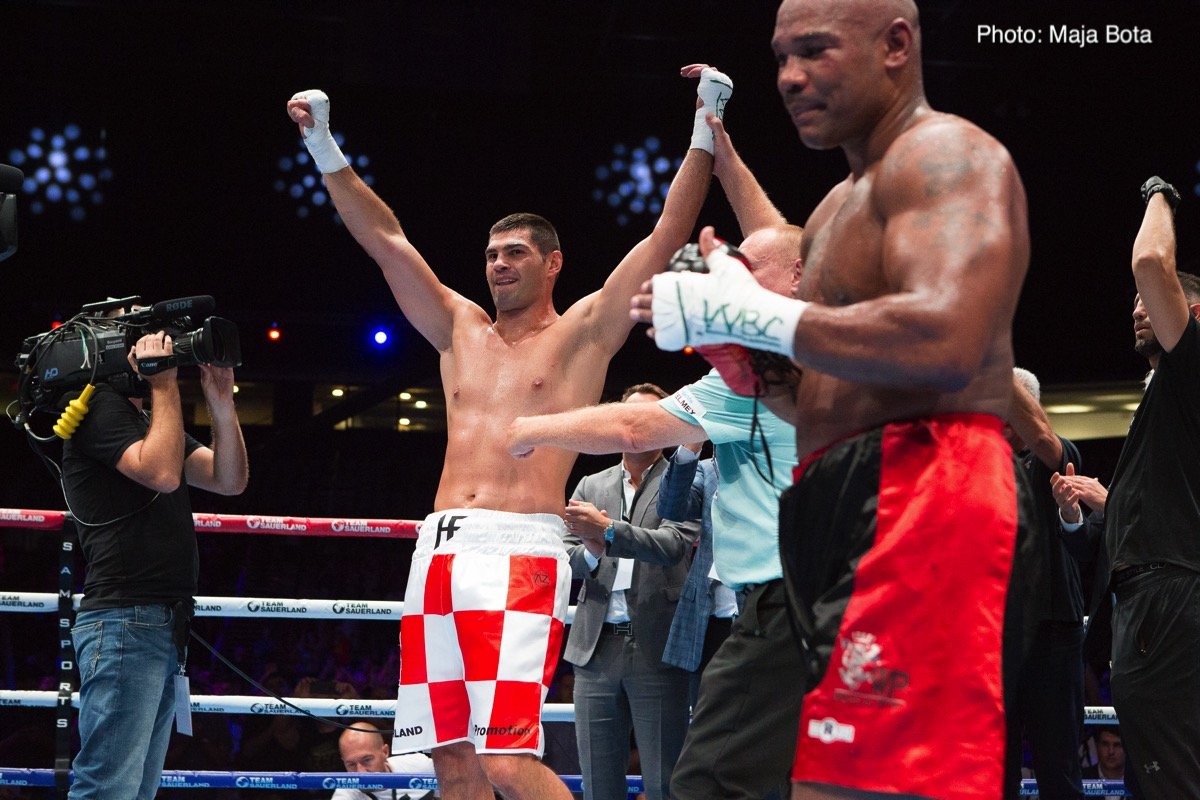 Unbeaten southpaw heavyweight Amir Mansour believes he is the best kept secret in the heavyweight division today. This may come across as an overused cliché, but "Hardcore," as the 18-0(14) heavyweight is known, has certainly been avoided by the top names of the division, and this is the reason, he says passionately, that the casual fans are largely unaware of him and his explosive talents.
The 41-year-old, who has served some serious time in prison, has also suffered criticism due to his age. Yet the eloquently spoken Delaware man defies any younger fighter to come and test his speed, stamina and power. Amir has also put his jail time well and truly behind him.
Speaking with me last week, ahead of tonight's fight against the seasoned Maurice Harris, Mansour insisted that as long as he keeps winning the top names will have to "come and see me eventually."
James Slater: You insist that you are the best kept secret/most avoided heavyweight today, Amir?
Amir Mansour: "Oh, most definitely, man! Guys just don't want to face me. We've put out offers to David Price, Tyson Fury, both Klitschkos and Deontay Wilder. The list goes on and on! Some guys, they say to the media that they will fight Amir Mansour, but that is just that, talk for the press. Wilder, maybe he would fight me, but his management will never let it happen. These guys may fight each other but they won't fight me."
J.S: Is this a frustrating time for you, or, like Marvin Hagler – who was also avoided for so long by the top names – does it make you all that more determined and mentally tougher?
A.M: "All I can do is keep winning, and hopefully I'll become somebody's mandatory. Then they can't back down; they'll have to come see me! I've won some small titles and the IBF and the WBF have given me opportunities. This win [over Maurice Harris] will put me back in the top-10 and this will hopefully force somebody's hand – somebody who is ranked in the IBF top-10 [will have to fight me]."
J.S: Harris, who is 26-17-2(11) has been in with some top names in his day (such as Larry Holmes, Chris Byrd, Fres Oquendo and Tony Thompson). What are you expecting from him on August 23rd?
M.H: "Let me tell you, the heavyweights over in the U.S still avoid him. Maurice Harris is slick, he can box, and he's no slouch. His record doesn't do him justice; he's lost a lot of decisions he never really lost. It depends on which Harris shows up. I'm training hard and I'm not looking past him."
J.S: The critics point to both your age, and your height, at 5'11". How do you respond to the critics who say you are too small and too old to beat the big, big heavyweights?
A.M: "Look at my record; I've fought guys who are 6'3" and 6'4" – I even fought a guy who was seven-feet tall early in my career. The height of my opponent means nothing to me. I'm listed at 5'11," but I'm closer to 6'3." Guys who face me in the ring are surprised at how tall I am! They have told me, 'Man, you're taller than they said you were!' And with my foot speed, don't worry about me getting inside on someone's chest; inside on anyone's guard. I can get past anybody's reach, don't let anyone worry about that. And as for my age, what you've got to realise is, number of years don't age a fighter, punishment does that. Look at guys who had long amateur careers, say anything from 80 to 300 fights. That deteriorates a fighter. Look at David Price, he accomplished a lot as an amateur, but then he lost twice to Tony Thompson. Those amateur fights were wearing down on him and he couldn't take a punch. Some guys, at age 25 or 28, they are worn out and can't even talk clearly due to such a hard amateur career. I'm fresh, I had no amateur fights, not a single one. Look at Bernard Hopkins, he had a limited amateur career and he's still dominating now. I've never been beat up. My legs are good. I talk with aggression and I move with aggression. There's nothing wrong with my reflexes. I'm faster than the young guys. Let them come and see me and I'll show that!"
J.S: Can I ask you about your jail time?
A.M: "I served eight-and-a-half years in 2001. I was on the streets back then, running a crew. I had my share of problems and I wound up serving time. The time I went to jail in [December] 2011, I had violated my parole. What happened was, I was with my brother, who had a criminal record, and I wasn't supposed to be with any convicted felon. That was part of my parole – even though it was only my brother I was with at the time. So I did a further six-months. But I trained while I was in jail, I did what I had to do. Prison doesn't define me at all. The people who know me will tell you that. As soon as I came out of jail I knew I was prepared to do more than the other US heavyweights, the guys who were making all the noise!"
J.S: There are two upcoming fights in your division that I'm sure you will be watching: David Haye-Tyson Fury and Wladimir Klitschko-Alexander Povetkin. What are your pre-fight predictions?
A.M: "Oh, David Haye wins that fight [Vs. Fury] all day long. I was ringside at Fury Vs. Steve Cunningham, and I couldn't believe how Cunningham let him win that fight. He was supposed to knock Fury out and I couldn't believe how he let him [Fury] come back from that early knockdown. But, I must commend Fury, he bullied Cunningham and he kept to that game-plan. He bullied Cunningham and he took his heart I think. But I can't see Fury doing that against Haye. Haye is too much of a fighter, with too much experience. As for Klitschko-Povetkin; I haven't see too much of Povetkin, but at the same time I can't think the Klitschkos would take any fight they know they can't win, not at this point in their careers. Wladimir should be able to handle his business, but hopefully Povetkin can do something. The Klitschkos keep on going, defeating the litter the organisations allow them to keep on fighting."
(In closing, Amir wished to sincerely thank his UK fans, who send him many letters of encouragement and support. "I'm overwhelmed by the support I get from the UK. I will make sure I'm always ready and that I'll live up to this support," he said)