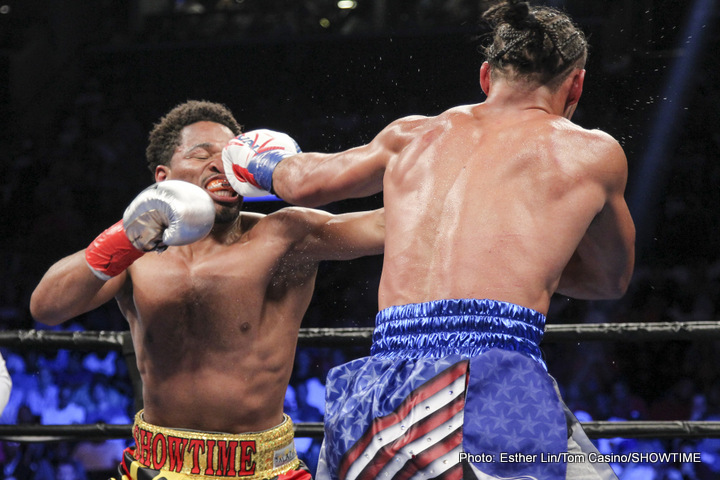 Keith Thurman wants to fight the best and give the fans what they want to see; ditto Shawn Porter. And when the two welterweight stars faced one another in June of last year, we witnessed a classic. Ever since the close decision that was awarded to Thurman, fans have craved a rematch.
If Porter can beat fellow former champ Andre Berto on April 22, in what will be an official elimination bout, we could get what we want, maybe this year. Porter could have a tough fight on his hands against the always dangerous Berto, but at the same time the former IBF ruler is the favourite to win. The current welterweight division is red-hot, with a number of potentially great match-ups possible, but there was really something special about the Thurman-Porter rumble from last summer.
It was Thurman's most exciting fight and best performance (a fight and a performance totally unlike what we saw when "One Time" edged Danny Garcia this past Saturday night) and the June epic also gave us Porter's most exciting fight/most impressive display of raw courage and energy. Who wins the sequel? Could we even get a classic trilogy?
Berto will of course have something to say about it – and Garcia also wants a return chance against Thurman, the man who took his WBC title and unbeaten record – but we could be treated to a second instalment of sizzling 147 pound action if Thurman and Porter do get it on again this summer.
Promoter Lou DiBella, in speaking with ESPN.com, hyped up the upcoming Porter-Berto clash:
"In a welterweight division that is filled with talent and marquee matchups, Berto versus Porter is another elimination bout on the road to crowning the king of the division," DiBella said. "Berto and Porter are two established, offensive-minded professionals who understand the significance of this showdown. I expect fireworks on April 22 when one of them stakes claim to an even bigger opportunity."
Whoever wins in April, Porter-Berto promises just what DiBella says it does. Prediction: Porter manages to overwhelm a game Berto in the middle to late rounds in a slugfest.