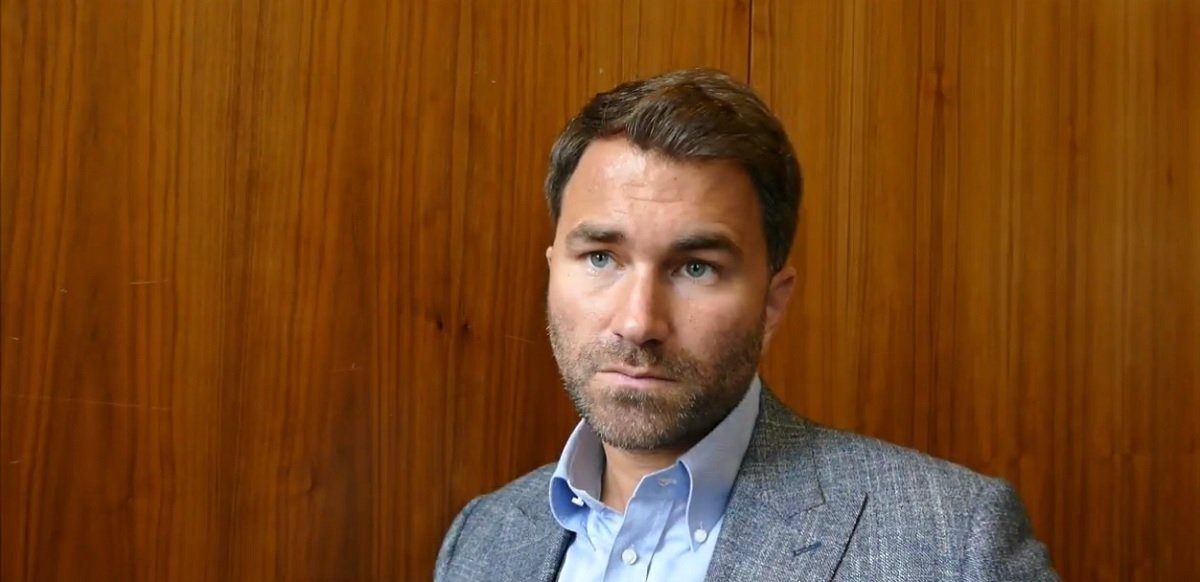 Eddie Hearn says he's heard that Deontay Wilder has agreed to defend his WBC heavyweight title against Dominic Breazeale next, so he doesn't feel confident about negotiating a fight for him against Anthony Joshua.
Hearn says it's difficult for him to negotiate with Wilder's three managers after hearing that he has agreed to fight Breazeale (19-1, 17 KOs) next. Wilder's management hasn't made an official statement about him facing the 32-year-old former heavyweight title challenger Breazeale next, so it's quite possible that Hearn has heard wrong about that fight coming next for Wilder. If Wilder is facing Breazeale next, then you must assume that his three managers felt that it was the most realistic fight available to them. Hearn says Wilder doesn't bring much to the table for a fight against IBF/WBA/WBO heavyweight champion Joshua.
"We made an offer, an opening offer," Hearn said to Fighthype about the Joshua-Wilder fight. "It wasn't based on percentages. It was a pure cash offer to Deontay. It's 5 to 6 times his biggest purse ever, and we haven't had a reply yet. They were supposed to make us an offer last week, but that hasn't happened. I'm going to meet them in New York next week face to face. They can't really make an offer because they don't have the money in the fight. They're making an offer where our guy generates all the money," Hearn said.
Hearn is speaking about the $12.5 million flat fee offer that he made to Wilder, which he repeatedly says is 5 to 6 million more than his largest purse. Wilder and his team don't care that the purse is his largest of his career. They care more about wanting to get a percentage deal about 60-40. Hearn says that's not going to happen, because he feels that Wilder doesn't deserve a percentage deal. Hearn maintains that Joshua (21-0, 20 KOs) is the one that brings in most of the money and fans. The only thing Wilder brings to the fight is his WBC heavyweight title. For that reason, Hearn feels he doesn't need to offer Wilder a percentage of the pot. Hearn says the $12.5 million is a little over 30 percent of what the fight will likely make. Hearn sees the fight bringing in $40-50 million. If Hearn is wrong and the fight brings in $100 million, then Joshua will rake in the money and Wilder will be left with the $12.5 million, which Hearn says wouldn't all go to him. He says Wilder pays his three managers 40 percent of his purses.
"I've heard some comments where it's a $100 million purse," Hearn said. It can be if it were built properly in the States. If this fight happens in September, it probably generates half that, maybe less. So, 12.5 percent probably represents over 30%. It's a very fair offer to Deontay Wilder. The argument is you gave Joseph Parker 33 percent. No, we didn't. The offer we made to Deontay Wilder is double the offer Joseph Parker had for the Joshua fight. So, don't worry about the percentages. He's going to make double, but he has to give up 30 to 40 percent to three managers as well, and we also heard that he's already agreed and signs for the [Dominic] Breazeale fight. We've not had any correspondence since that offer. We want to make the fight. We want that fight next. If it doesn't happen next, then it has to happen the one after," Hearn said.