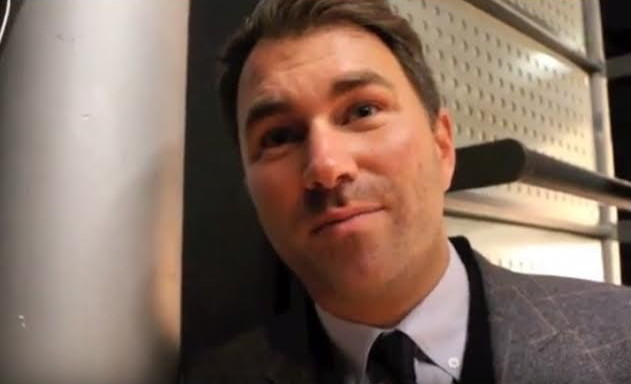 It's still not clear who IBF heavyweight champ Anthony Joshua will be defending his belt against on November 26, but it will definitely not be David Price. Promoter Eddie Hearn had some air time on Sky Sports today, and he repeated the three "most likely" names for Joshua's next bout: Kubrat Pulev, Bermane Stiverne and Joseph Parker, who is of course Joshua's mandatory challenger.
Price recently revealed how he "knocked out" Joshua in sparring some years back, and he called for a shot at the IBF champ. But Hearn says Price is now quite yet "in the mix," and must win a "breakthrough" fight to earn a shot at A.J. And Hearn has the very breakthrough fight in mind for Price: one against New Zealand's unbeaten Parker, on the November under-card.
"We're looking for credibility and those three men (Pulev, Stiverne, Parker) are ranked in the top-15 and we're looking for the right guy to test Anthony Joshua and progress him as a fighter," Hearn said. "Those three are likely. There are other guys. I don't think David Price is in the mix just yet – it won't be Price for November. We've been having some good chats with Parker's team. They like to be active. Parker is still, as is Joshua, a work in progress. They're happy to fight on the Joshua card in November if he's not the opponent and one fight we're looking at is Parker Vs. Price in a final eliminator. It's a wonderful fight."
Parker-Price is an interesting match-up, but would Parker be foolish to risk his already guaranteed shot at Joshua by taking a fight with a big man who is a proven puncher? And though Parker does indeed like to stay busy, would he really want to fight as soon as November, after his October 1st fight with Alexander Dimitrenko? Parker will likely get his shot at Joshua next year, and he may or may not fight again after the Dimitrenko test beforehand. If this scenario proves to be a correct one, it would leave Pulev and Stiverne as the two favourites to face Joshua in November. But with Stiverne set to face Alexander Povetkin in a WBC-ordered fight for their interim title (with Deontay Wilder out of action due to injury), is the list in effect cut down to just one name: Pulev?
Pulev, the reigning European champ and beaten only by Wladimir Klitschko, is certainly credible. Will the Bulgarian be the man to get the call for November 26th? Fans should be happy enough if this proves to be the case. And as Hearn said today, the big fights against the likes of a David Haye or a Tyson Fury, can happen for Joshua next summer.