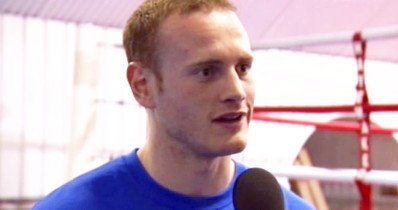 Matchroom Sport promoter Eddie Hearn says his fighter Commonwealth super middleweight champion George Groves (18-0, 14 KO's) feels that WBA/WBC super middleweight champion Andre Ward is the only guy that Groves feels he can't handle at 168.
Hearn said to ESPN "The only person he says he can't beat yet is Andre Ward. That's the only one that George says, 'At the moment I wouldn't challenge Ward but I'll beat the rest of them.' I keep saying, 'Alright, George, let's work on this, let's keep work on this.'"
I hope Hearn has eyes open to the fact that Groves isn't looking so hot against the sub-par opposition he's been feeding him since he joined up with his promotional stable. Groves has looked at times like he's fighting without any sense. He's just going out and loading up on everything he throws in his wins. Based on how Groves looked in his recent victories over Glen Johnson, Baker Barakat and Dario German Balmaceda, I think the following super middleweights would all beat him: Carl Froch, Mikkel Kessler, Andre Ward, Robert Stieglitz, Andre Dirrell, Anthony Dirrell, Sakio Bika, James DeGale, Adonis Stevenson and Thomas Oosthuizen.
I rate all of those fighters above Groves, and I don't see improving to where he can beat them even those he's younger than these guys. He seems to be missing the needed talent to become a high quality fighter in terms of having championship level talent. He's not a bad fringe contender/European level guy, but he's lacking the physical talents to get to the next level in my estimation.
It's interesting that Groves feels that he may be able to beat Ward in the future. I wonder when that is because there's not much that separates the two fighters in terms of age, so it's not as if Groves can wait Ward out until he's old and gray and then beat him and start bragging that he's better than him. Ward is 29 and Groves is 25. That's too close of an gap for Groves to wait out Ward.
Hearn needs to be ready cut his losses in the future if Groves fails to pan out for him because I don't think his talent matches his mouth.
Groves will be fighting on the undercard of the Carl Froch vs. Mikkel Kessler card on May 25th at the O2 Arena in London, UK against an opponent still to be determined. Groves is supposed to be facing a big named opponent, although there are whispers that the big name is going to be Brian Magee, a fighter that was just easily knocked out by Kessler.