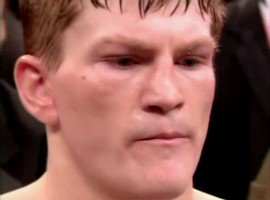 British 140lb legend Ricky Hatton has spoken to Sky Sports ahead of May 2nd's May-Pac super fight to potentially question the wisdom of Floyd Mayweather once again hooking up with his father in the corner, and of his own experiences of working with Floyd Snr.
Following his loss to Mayweather Jr in 2007 and split from long-time trainer Billy Graham, Hatton employed the services of Floyd Snr in the corner. The first time in 2008 when he battered Paulie Malignaggi until trainer Buddy McGirt threw in the towel in in the 11th.
The second time was the following year, when he oversaw Hatton's devastating knockout loss to Pacquiao, which ended inside 2 rounds.
Acknowledging the widely credited defensive nous of Floyd Snr, it appears to me that Hatton is perhaps suggesting that Roger Mayweather is the more complete trainer, offense and defensive.
I remember Floyd Jr doing a UK interview before he fought Marquez, himself saying almost exactly the same thing, although that was during the feud and maybe I'm getting off point even if I agree with the assertion!
Of Floyd Senior The Hitman said;
"He IS a very good defensive coach and when I fought Paul Malignaggi it couldn't have gone any better. That was probably my best fight since Kostya Tszyu."
"Having said that though, training didn't go so well for the Pacquiao fight. The tactics could have been better and there wasn't too much method there."
"He's not the best trainer that I've ever had in my corner but he is still a good trainer nonetheless"
It sounds like reluctant praise from Hatton to me who suffered the most unsettled period of his career under Mayweather Snr, who, along with Freddie Roach has been firing verbal barbs back and forth in the build-up to this one.
Hatton is possibly still slightly bitter at the Pacquiao fight, which ended his career and plunged him into a dark cycle of depression and drug abuse. His ill-fated comeback over 3 and a half years later against Vyeschlav Senchenko was the last and final time Hatton laced up the gloves.
These days he is actively involved in his promotions company and his own fighter training which he undertakes at his own Hatton Fitness Centre in Hyde, Gtr Manchester.
Twitter @undilutedpoison