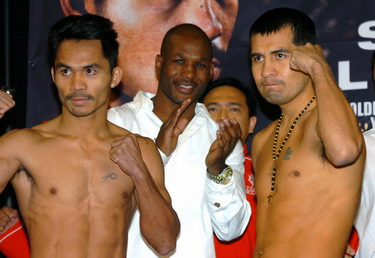 Now we are just days out from May 2nd, the world and his wife have a prediction as to how the big fight is going to go.
The latest fight figure to wade in, is Mexican legend Marco Antonio Barrera, best remembered for his epic trilogy with Mexican rival Erik Morales. Many British fans will also remember him as the man who, for all intents and purposes, ENDED the career of British legend Prince Naseem Hamed, in what would end up being Naz's penultimate fight.
Talking to Fighthype.com in his native tongue, Barrera re-iterated perhaps the main concern of many Pacquiao fans. Whether or not the brutal knockout in the 4th Marquez fight has changed him as a fighter.
Barrera said;
"With Manny, we need to see if he has recovered from the Marquez knockout"
Asked about his own experience of sharing the ring with Pacquiao, (x2-in '03 and '07) Barrera was asked what exactly makes Manny such a tough fighter to beat. He said;
"His southpaw stance and his power. He is very tough and strong and throws from many angles. That makes him difficult. In the ring they will be two different fighters"
Probed on Floyd, just what makes him special and why he's remained undefeated in almost 19 years as a pro, Barrera said;
"He's very hard to hit, it is very difficult to touch him, and that will be the test for Manny Pacquiao."
On whether the fight has come too late, and whether or not it'd be a different proposition in 2010 to now, the legend conceded;
"Maybe 2 or 3 years ago for me it would have been a super interesting fight. The Marquez knockout takes away from it a little bit. We need to see if he's recovered. I was more that surprised when it happened. I was happy that a Mexican had been the one to do it and stop someone who had stopped Oscar De La Hoya, beaten Margarito."
Pushed on his prediction and both the outcome of the contest and how the end will come, he answered with;
"If it's by a knockout it will be by the speed and power of Pacquiao. If it's by decision, it's down to the speed and intelligence of Floyd."
Classic fence-sitting! Even if the observations are true enough.
On his post fight career, Barrera said;
"I'm at all the best fights and I no longer have to take any punches!"
Barrera was talking to Luis Sandoval
Twitter @undilutedpoison