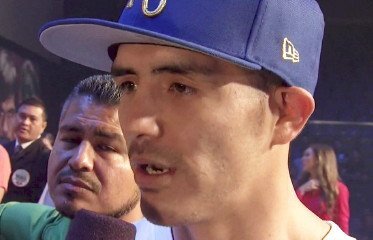 Ricky Hatton thinks that Manny Pacquiao could (54-5-2, 38 KO's) could be in for a bit of a problem tonight against Brandon Rios (31-1-1, 23 KO's) if he's unable to get Rios out of the ring by the 6th round in their fight in Macao, China.
Hatton thinks Rios' power and his nonstop pressure could give Pacquiao major problems if he's not able to get Rios out of there quickly to avoid having to take his massive shots round after round.
This is a fight that Hatton believes that Pacquiao will definitely win with his power and hand speed. Hatton expects Rios to walk into one of Pacquiao's big shots that will end matters early on. Where Pacquiao could have problems though is if he Rios is able to take his power the way that Antonio Margarito did three years ago.
If that's the case then this fight will be a very difficult one for Pacquiao where he could lose, or at the very least take a lot of punishment from Rios. Pacquiao is about to 35 next month, and he's facing a younger guy that can fight nonstop for 12 rounds. That's not a good opponent for an aging fighter coming off of a knockout like Pacquiao.
Hatton said "He [Pacquiao] couldn't have got the worst opponent, because Rios will try to jump down Manny's throat and try to really put the pressure on him. Anyone that flies at Manny, they walk into big shots. I think he's got to be very sensible when he makes his attacks at Manny. He can't come in at straight lines. He's got to come in at angles at him. But ultimately, it's going to be a very dangerous fight for Manny. Manny's got to hit him hard early and discourage him, otherwise Brandon will go all night long. I think ultimately, Manny will hit too hard for him. Brandon Rios will come rumbling in, but if he comes to the halfway stage, I might start favoring Rios. But I think Manny will nail him and get him."
Hatton failed miserably in his fight with Pacquiao four years ago in getting stopped in the 2nd round.