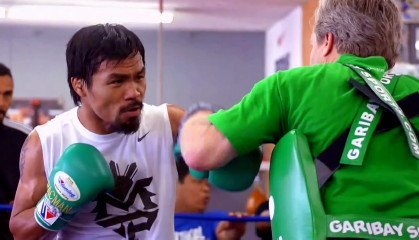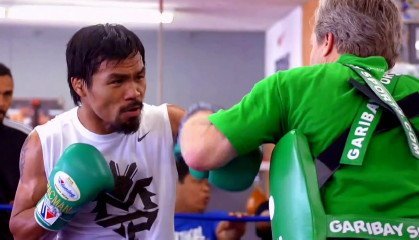 Manny Pacquiao is fighting to overcome more than just his sensational knockout loss last year, with the hopes of a nation devastated by Typhoon Haiyan pinned firmly on his shoulders this weekend.
There's no getting away how big a star Pacquiao is in his homeland of the Philippines, a country which has been left reeling following the natural disaster which has claimed the lives of over 5000 people and displaced as many as 4 million.
In the early hours of Sunday morning on BoxNation the face of the Philippines steps back into the ring for the first time since his emphatic knockout loss to the Mexican counter-puncher Juan Manuel Marquez last December, when he takes on Brandon Rios in the gambling capital of the world – Macau.
A jovial and friendly character outside of the ring, with a new found faith in God and Christianity, the eight-weight world champion enjoys a Beatles-like following in his country, emphasised when he was elected as congressman for the Sarangani province in 2010 beating wealthier and more politically entrenched rivals to the seat.
Yet, Pacquiao's demeanour during fight week mirrors that of his proud nation, as he embodies the will to carry on and get back on his feet following his recent loss, despite calls for him to hang up his gloves at the relatively modest boxing age of 34.
"I learned a lot from the Marquez defeat and use it now as experience," says Pacquiao.
"It is part of boxing. You're not always on the winning side, sometimes you lose and you have to accept it. Now I move on and enter another page in my boxing career.
"I decided to continue boxing because I believe I can still fight and thank God for the strength and good health he gave to me so that I can go on. Boxing is my passion I grew up in the sport so I want continue my career until the time comes when I feel its right to retire," he remarks.
As shattering as the loss to Marquez was for the Filipino, as he lay motionless after being caught with a right hand in the last second of the sixth-round – delivered with the full force of Aztec aggression – nothing could compare to the recent apocalyptic scenes witnessed in the Philippines.
The northern city of Tacloban was utterly destroyed, with the surrounding areas also severely hit. Pacquiao was in the country at the time, deep into training camp in General Santos City, which lies in the south so was physically unaffected by the storm.
However, the boxing writers 'Fighter of the Decade', recalls vividly the emotions he felt when he heard what had happened.
"I was training in General Santos and we had good weather there so we were not affected by the storm," he says.
"When I saw the news of the typhoon I was crying. I felt so bad with what happened. At that time I wanted to visit them personally but I couldn't because I was hard in training so I sent my people there to help them so I could focus on my training and pray for them," an emotional Pacquiao recalls.
"Right now I have sent them food because that's the most important thing. After that I have to help give them a fresh start in their lives, so clothes and things they can use will be important," states Pacquiao.
As soon as he is done fighting inside the ring in Macau he wants to help in person with the fight outside, though by winning this weekend he hopes it can help inspire his countrymen to keep going.
"My people have been there for the last three weeks but after the fight I'll be going there personally with more relief goods and to help them. I want to really see what happened. I have relatives there, so I'm going to visit them. They're still alive but they lost their homes and everything," reveals Pacquiao.
"I wasn't distracted in my preparations with what happened in the Philippines but rather it gave me more inspiration and determination to focus and win the fight. I am dedicating this fight to the families and people affected by the typhoon. I want to try and make them happy and bring honour to my country," he says admirably.
Lesser fighters may have overlooked the 27-year-old Rios, who fights out of Oxnard, California with an impressive record of 31 wins and only a single defeat, that coming against Mike Alvarado in an edge-of-the-seat rematch earlier this year.
But Pacquiao is aware of the imperative nature of the fight, with the all-action Rios promising to send him sailing into the sunset.
"I think Rios is dreaming when he says he's going to retire me. He's not God that he can predict my future," fires back Pacquiao.
"I'm not thinking about losing. I always think positive and never negative. I'm fighting to put my name back at the top of boxing and show that I can still fight and I'm still young. I've not lost my confidence as a fighter, or as an aggressive fighter. It's important to forget the past and move on," he says.
"My aim is to get back on the top. I'm hungry and I'm excited for the fight. My feeling right now is like when I was 24 or 25 years old – no worries at all. I'm just feeling good," he adds.
As aid floods in from across the globe, a victory for Pacquiao would offer something similarly important to the people, the belief – that like their idol – they too can rise from despair.
Pacquiao vs. Rios is live on BoxNation (Sky Ch. 437/Virgin Ch 546) this Sunday at 1.30am. Visit www.boxnation.com to subscribe.