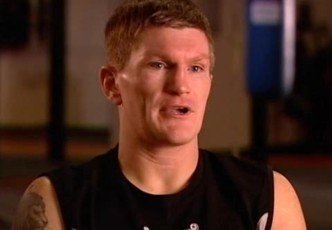 By Michael Collins: Former two division world champion Ricky Hatton returns to the ring next month against former WBA World welterweight champion Vyacheslav Senchenko on November 24th in Manchester, England. If Hatton looks really good in blowing out Senchenko, he could find the pressure mounting for him to fight Amir Khan or Kell Brook in fights that would be positively huge in the UK. Hatton, 33, still wants to prove himself worthy of facing both of those guys by getting past Senchenko in style and perhaps some other fighters.
In an interview by Kugan Cassius of IFilm London, Hatton said "It's really hard to say [who Hatton would do better against]. I'd have to sit on the fence and go right down the middle. If Amir Khan gets drawn into a fight, it goes to the blue corner. But if Amir sticks to his boxing ability and moves and uses his hand speed, then obviously you'd have to side with Amir by a slight edge. I really can't split between the two of them."
Hatton goes onto say that he has to prove himself against Senchenko before he's mentioned with Khan and Brook. However, I just wonder how much Hatton will have proven even if he does blow out Senchenko. Come on, if Senchenko, who never really faced anyone worth mentioning during his time as the WBA welterweight title, was blown out by a light hitting like Malignaggi, what does that say about Senchenko? I don't rate him at all, period.
There are a ton of other welterweights in the division that would say a lot more about where Hatton is at in his comeback than putting him against a guy like Senchenko, in my view. How about putting Hatton in with Marcos Maidana, Andre Berto, Thomas Dulorme, Mike Jones, Randall Bailey, Devon Alexander, Selcuk Aydin or Robert Guerrero? If Hatton could beat guys like that then, yes, I think he could be mentioned with the same names as Khan and Brook. But beating up on Senchenko is hardly the kind of win that proves anything.