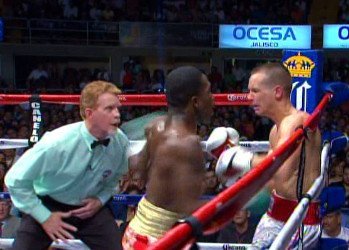 By Michael Collins: Promoter Frank Warren is interested in matching his guy WBO lightweight champion Ricky Burns (35-2, 10 KO's) and American star Adrien Broner (24-0, 20 KO's) if the two fighters can win their next upcoming fights this year. Burns will be fighting on December 15th, presumably against a top 10 lightweight contender, and Broner will be challenging WBC lightweight champion Antonio DeMarco on November 17th in Atlantic City, New Jersey. Both Burns and Broner are expected to win their next fights, which could set up a mouthwatering fight between them in early 2013 in February or March.
Warren said to Frankwarren.com "Provided Rickster prevails, I have an understanding with Golden Boy [Promotions] for him [Burns] to lock horns with white hot U.S hope Adrien 'The Problem' Broner in late February or early March…I'm more than happy for my man to meet, and beat, Broner in a little unifier on either side of the Atlantic."
Golden Boy will snatch this fight up in a second because this would give Broner a great chance of picking up another world title and putting himself in the position where he'll have half of the lightweight titles. The only lightweight titles that will be out of Broner's clutches are the IBF and WBA titles, but Broner can capture those belts as well if he really wants to put the time in going after them. The IBF champion is Miguel Vazquez, and the vacant WBA title is being fought over by Richard Abril and Sharif Bogere next month on November 3rd. Those belts are easily attainable by Broner if he wants them.
Burns has been looking good since moving up to lightweight last year, and after being given the WBO lightweight title by the World Boxing Organization, Burns has defended it twice, beating Paulus Moses and Kevin Mitchell.
Burns has to get past his December 15th opponent, however, before he can get to Broner, and it's still up in the air who will be facing Burns on that date. It could be a decent scrap if Warren picks a top 10 contender like he's been talking about. I didn't consider Burns' last two opponent Mitchell and Moses as being legit top 10 guys, so it'll be interesting to see what Burns can do against someone that is fighting on a high level and who is young.