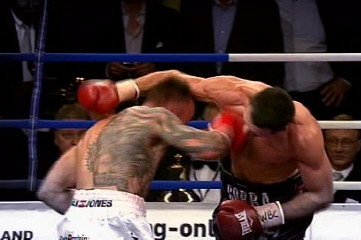 By Michael Collins: By now you've all heard the news about IBF super middleweight champion Carl Froch's next fight against light heavyweight Yusaf Mack (31-4-2, 17 KO's) on November 17th at the Capital FM Arena, Nottingham, Nottinghamshire, United Kingdom. Froch's choice of an opponent hasn't been well received from boxing fans who wanted to see Froch fight a much better opponent than then the struggling 32-year-old Mack. Froch had always prided himself on not taking any easy fights. Well, this certainly does seem to be an easy fight for him and it's more than off putting when you consider that Froch may not have more than a small handful of fights left in his career before he retires.
Boxing fans wanted to see Froch fight unbeaten South African Thomas Oosthuizen or Sakio Bika at the least. But in choosing Mack, Froch and his promoter Eddie Hearn seem to have really reached for the bottom and it's disappointing to Froch fans. There are some Froch fans who are okay with this choice and feel that Froch can fight anyone due to him having put in two hard years in the Super Six tournament.
However, many other boxing fans don't buy into excuses like that and they feel that fighters shouldn't be taking easy fights, especially given that the price of tickets don't change to reflect an easier fight. I can understand that. If a fighter is going to take a tune-up bout then the prices of tickets should change along with it so that boxing fans don't get stuck paying big money for a mismatch that will likely end in a few rounds.
There's not much to get excited about with Mack. He was knocked out last year by IBF light heavyweight champion Tavoris Cloud in a one-sided fight and he was knocked out in 2010 by Glen Johnson. That's about all you can really say about Mack because he doesn't significant wins on his resume.