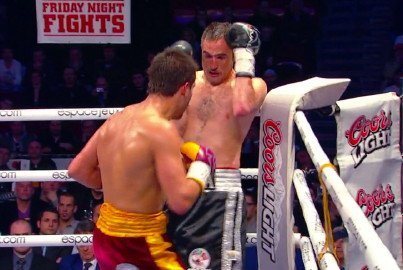 By Marcus Richardson: IBF International International middleweight champion Marco Antonio Rubio (54-6-1, 47 KO's) will be defending his title against 41-year-old former WBC welterweight champion Carlos Baldomir on September 8th in a still to be determined venue in Mexico. Rubio, #6 WBC, suffered a 12 round unanimous decision loss to WBC middleweight champion Julio Cesar Chavez Jr earlier this year in February. Rubio fought his heart out in that fight, but simply didn't have the weight to compete with the 180 pound Chavez Jr. and ended up spending most of the fight pinned to the ropes by the bigger Chavez Jr.
Rubio has since won his last fight, beating Jorge Cota by a 7th round knockout in June of this year. Rubio looked good in that fight and beat a good fighter in Cota.
Baldomir previously held the WBC welterweight title from January 2006 to November of 2006 after beating champion Zab Judah by a 12 round unanimous decision in a shocking upset. However, Baldomir was only able to successfully defend the title once, beating Arturo Gatto by a 9th round TKO in July of 2006. In November of that same year, Baldomir lost his title to Floyd Mayweather Jr. by a lopsided 12 round unanimous decision.
Things have been going downhill more or less for Baldomir since then with him losing to Vernon Forrest, Jackson Osei Bonsu, Salu Alvarez and Bill Facundo Godoy. Sadly, Baldomir's last big win was the Gatti fight in 2006. Baldomir's other wins since then have all come against 2nd tier fighters. He's lost to every good fighters he's faced in the last six years and you have to expect that he'll lose to Rubio on September 8th.
Rubio is ranked high enough by the WBC to where he should be able to get another world title shot in the near future if he can keep on winning. For his sake, he might be better off waiting until Chavez Jr. is beaten or moves up in weight before he challenges for the WBC middleweight title again because simply doesn't have the weight to defeat the 180 pound Chavez Jr.