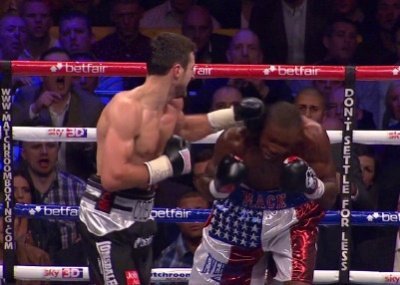 By Marcus Richardson: IBF super middleweight champion Carl Froch (30-2, 22 KO's) blasted out a badly over-matched Yusaf Mack (31-5-2, 17 KO's) in the 3rd round on Saturday night after hurting him badly and putting him down with a right and a left to the body at the Nottingham Arena, in Nottingham, UK. The fight was then stopped at 2:30 of the round when Mack couldn't get back up due to the pain.
Mack, 32, went down in a delayed reaction to the body shots and it was clear that he was in too much to get back up. Froch also put Mack down in the 1st round from a left hook to the head. However, Mack wasn't hurt from that shot.
In the 2nd round, Froch hurt Mack with a late flurry of shots in the last 10 seconds of the round that had Mack's legs looking unstable as he took heavy shots against the ropes. It looked like a replay of Froch's demolition of Lucian Bute.