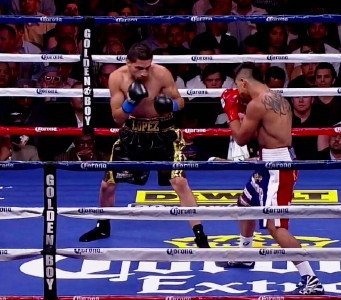 By Rob Smith: The World Boxing Council recently pushed welterweight Josesito Lopez (30-4, 18 KO's) to number #4 in the 154 pound rankings just as Lopez heads into his September 15th fight against WBC junior middleweight champion Saul "Canelo" Alvarez (40-0-1, 29 KO's) at the MGM Grand in Las Vegas, Nevada. Why the WBC decided to give Lopez a high ranking in the junior middleweight division is the big question. Lopez has never fought at 154 before and he only recently moved up to 147 lbs to fight Victor Ortiz in his last fight.
Going from light welterweight to welterweight for one fight and then being pushed to the #4 spot by the WBC at 154 is kind of baffling to me. What did Lopez do to get ranked so high other than signing to fight the WBC's champion Alvarez? Stuff like this just makes me feel distrustful of the sanctioning bodies. When they take a fighter and push him to a high ranking in a division that they don't fight in it seems wrong. I hate the idea of Alvarez a welterweight, if you want to call him that, in the first place. Why couldn't Alvarez at least fight someone in his own division.
I know the WBC has now taken care of all this by giving Lopez an inflated ranking in the junior middleweight division, but it's disappointing that Alvarez is being matched up against what is really a light welterweight for this fight. I thought it was really bad that Alvarez picked up the vacant WBC junior middleweight title last year by fighting a welterweight Matthew Hatton, who wasn't even ranked in the junior middleweight division. But now Alvarez is making things look even worse by taking on a fighter from a division below him Lopez.
I guess from Golden Boy Promotions standpoint they likely feel that the casual boxing fan won't give what weight class Lopez came from. They just want to see Alvarez fight against somebody. Lopez is slightly known now to the casual boxing fans after beating Ortiz in his last fight, so why not ignore weight class he's been fighting in and just throw him in with Alvarez? It's wrong because the actual junior middleweight contenders who have been waiting for ages to get a title shot are being skipped past by Lopez and the WBC has blessed it all by giving Lopez a high ranking in the 154 pound division based on nothing.