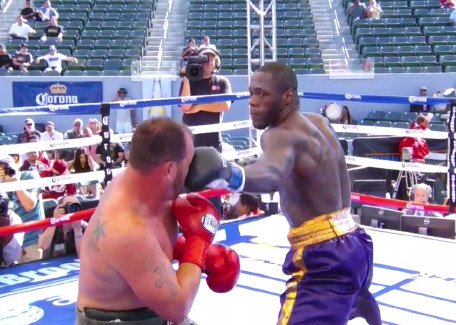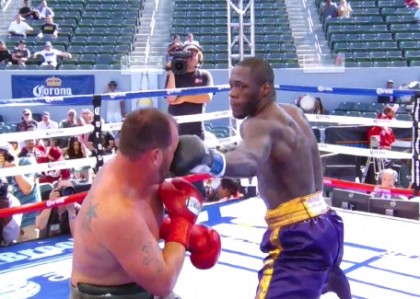 Trainer Joe Goosen believes that #1 WBC Deontay Wilder (32-0, 32 KOs) has a good chance of beating WBC heavyweight champion Bermane Stiverne later this year when Deontay faces Stiverne for the WBC title.
Goosen likes Deontay's right hand and left hook, and he believes that he could get to Stiverne if he sits against the ropes like he did in his recent fights against Chris Arreola. Goosen expects Deontay to be able to land his right hands against Stiverne.
The only thing Goosen doesn't know is how well Stiverne will be able to take those big shots. He noted that Arreola, who came into the fight with a right arm injury, was able to hurt Stiverne with right hands.
Arreola isn't nearly same kind of puncher that Deontay is, and Goosen feels that if Arreola was able to hurt Stiverne, then the chances are that Deontay will as well due to his superior power.
"I think Deontay Wilder is a really devastating puncher," said Goosen to esnewsreporting.com. "I kind of nicknamed him the Tommy Hearns of the heavyweight division. Whether they're supposed to be good or mediocre fighters, he takes care of them the same – he knocks them out. He's got a great right hand and a good jab that sets it up. I've seen him against one of my guys unfortunately. He got stopped in the 1st round. The guy hits very hard. Sometimes it looks like he's not putting anything behind it. Everyone says his hands are really heavy."
In Deontay's recent knockout of Malik Scott last April, Deontay hit him with a left hook followed by a right hand that was partially blocked on the gloves of Scott. The shots still ended up knocking Scott out. Some boxing fans thought that Scott had faked the knockout in order to avoid getting knocked out for real in the 2nd or 3rd rounds.
They say that Deontay made it look too effortless in destroying Scott. But that could go back to what Goosen was saying where Deontay looks like he's nothing everything into his shots sometimes and is still able to score knockouts. He seems to be able to put a lot of leverage from his 6'7" frame into his punches and this enables him to score knockouts.
"If Chris was able to get to him [Stiverne] with those right hands, I think if Wilder lands if, he's going to hurt Stiverne," Goosen said. "It'll be a great test to see if Stiverne can take the right hand of Wilder."