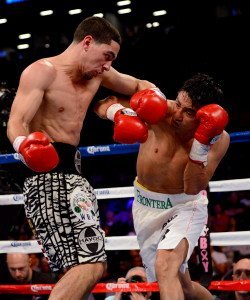 (Photo credit: Naoki Fakuda) By James Slater – It was some night last night in New York, as world championship boxing made a return to the Big Apple for the first time in over 80-years. Inside a buzzing Barclay's Centre, we got off to a sluggish start and saw a snoozer of an opening world title clash, as Randall Bailey seemingly gave up his IBF welterweight title without much of a fight of it. Throwing few punches, those he did let go failing to do any damage to Devon Alexander, "The KO King" never came close to living up to his nickname.
The only interesting question regarding this fight is, will new champ Alexander face British star and mandatory contender Kell Brook next? Bailey must surely call it quits.
The second fight of the night made up for the stinker, as unbeaten middleweights Peter Quillin and Hassan N'Dam N'Jikam gave us the battle of the night. In an amazing shootout, "Kid Chocolate" put the defending WBO champ down a whopping six times, looking oh, so close to getting the stoppage win more than twice. But N'Jikam, showing Rocky-like heart and guts, would not quit. Coming back to WIN a number of the later rounds (this after being turned into a yo-yo in the 4th and 6th-rounds), the Cameroon warrior made his name in defeat. A rematch would be a great idea.
Then, looking to dazzle in his first defence as WBA welterweight boss, Paulie Malignaggi came within a whisker of, in the words of the late, great Angelo Dundee, blowin' it against an over-the-weight Pablo Cesar Cano. "The Magic Man" succeeded in busting the Mexican tough guy up and outboxing him in the early rounds, also winning the middle sessions, but fatigue caught up with Malignaggi in the exciting bout's second half. Decked heavily by a smashing right hand in the 11th, Paulie had to use all his grit to get through the final three-minutes. Sadly, a great fight was somewhat tarnished by a crazy, inexcusable score-card – you know the one I mean, the one turned in by Glenn Feldman, who for some reason had Cano winning by a 118-109 landslide! Only in boxing, sadly.
The final fight of the night also brought more than its share of sadness. Mexican icon and all-time great Erik Morales, in what has to be his final ring appearance, was brutally KO'd – in a KO Of The Year candidate – by emerging star Danny Garcia. "El Terrible's" ageing body was sensationally sent crashing through the ropes in the 4th, courtesy of "Swift" Garcia's best weapon, his ever improving left hook. Spun around by the wicked blow, Morales had no chance of getting back into the fight that was ripped away from him in the 3rd when Garcia drilled him with a heavy right hand.
36-year-old Morales, who had been competitive against Garcia back in March, was blown away this time and at 52-9(36) and with all that wear and tear on his body combined with his diminished punch resistance (not that that left hook wouldn't have troubled any 140-pounder in the world), his only sane option is to walk away.
Morales, a four-weight world ruler, has had a truly memorable career, it's just sad that, like so many greats before him, our final image of him is him being beaten up by a much younger fighter assisted by Father Time.
Morales has to rank in the top-5 greatest ever Mexican fighters. Let's hope the Tijuana legend enjoys a long and happy retirement. He's more than earned it.