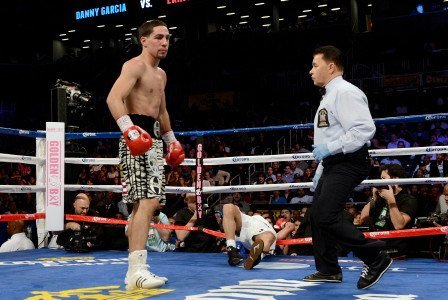 (Photo credit: Naoki Fakuda) Showtime's debut of the Barclays Center, Brooklyn, N.Y. was a big hit. Fans were so hyped they even gave Mike Tyson a standing ovation. That came about during the fight between Peter "Kid Chocolate" Quillin 28-0 (KO 21) and Hassan N'Dam N'Jikam 27-1 (KO 17). Thankfully fans had been pulled out of their stupor induced by the Devon Alexander vs Randall Bailey fight. The biggest excitement in that fight came when Referee Arthur Mercante, Jr. took a penalty point from each man for excessive holding. It was definitely a yawner. If you ever hear Bailey say he's committed to starting earlier and doing more, don't believe him. Even Alexander the Great, holder of the IBF welterweight title and winner of the fight by UD, apologized for it.
Quillin and N'Dam changed all of that. N'Dam came back more times than a boomerang. He was down twice each in the fourth, sixth and twelfth rounds. His resiliency was unbelievable. Not only did he survive each knockdown, he got up and back into the fight, throwing good, hard combinations that had Peter experiencing a little instability of his own. But, Kid Chocolate proved his previous twenty kayos were no fluke. He ripped off his own impressive combinations with power in both hands. His primary weapon against N'Dam was the left hook. He landed it both as a defensive counter punch and as an offensive weapon. As a counter, he would time it perfectly, sneaking it in between N'Dam's left and right. The opening would be there because N'Dam would start to "cock" the right, which meant it dropped low or was pulled back enough to expose his chin. As an offensive weapon, Quillin would set it up with a lead right, which would fall short, enticing N'Dam to once again "cock" his right to counter. Kid Chocolate would beat him to the punch and wham the left hook would slam in again. Five times that happened, with the sixth knockdown coming as the result of a right hand for good measure. The fight was so competitive that even with four knockdowns going into the twelfth round, there was still the possibility N'Dam might win. It took two more knockdowns to remove all doubt as to who won the fight. In other words, N'Dam fought so well, Quillin needed three 10-7 rounds to convince everyone that he was the better man. With his big win, Quillin captures the WBO middleweight title.
Paulie "Magic Man" Malignaggi had his hands full with another tough guy in Pablo Cesar Cano. Paulie pulled off a little magic in the second round when one of his good jabs ripped open a bad cut over Cano's left eye. The cut bled profusely, but between rounds Cano's cut man did a great job in stopping the bleeding, and Cano, who couldn't make weight, started getting to Paulie. As is usually the case, Paulie outboxed his opponent, but couldn't muster enough power to really keep him away.
Cano kept closing and pressuring Paulie, whose legs aren't what they used to be. As Paulie slowed down, Cano's timing got better, and he got through with good shots to the body. Several strayed below the belt line, and Paulie chewed out Referee Steve Smoger for not cautioning Cano. The fight remained competitive and close, but Paulie seemed to control the pace and distance. Then in the eleventh round, Paulie got caught by a good Cano right hand. The punch deposited him on the seat of his pants. He easily beat the count and shook his head to those at ringside, trying to signify he was alright. He wasn't completely convincing, though, and looked a bit shaky. He shook off the effects, and came back well enough in the twelfth and final round to come away with a split decision. Two judges scored the fight 114-113 in favor of Paulie, while the third judge saw in one-sided at 118-109 in favor of Cano. Even if Cano had managed to convince one of the other two judges, he still wouldn't have been able to capture Paulie's WBA welterweight title, because he failed to make weight by three quarters of a pound!
In the main event, Danny Garcia and his father proved they knew what they were talking about when then predicted an easier fight with Erik Morales the second time around. Speaking of weight, Morales had a difficult time making weight as well, and if there was any "clenbuterol" left in his system, it didn't do him any good. Garcia was too big, too strong, too fast, and too powerful for Erik. There's no "El Terrible" left in this 36 year old warrior's body. Gravity has already begun to work on this Tijuana, Baja bad boy. The muscles from his shoulders have taken up new residence around his waist, and when that happens it doesn't matter how long training camp runs. No amount of work will reverse the process rendered by mother nature.
As the fight opened, the youngster showed some respect for his senior by staying out of range, actually backing up a bit. But, before the round was over, Danny was already ripping off some hard shots, looking for reactions. He stepped things up in the second, and it was painfully obvious Morales didn't have the speed or power to keep up with the new undefeated champion. Toward the end of the third round, Garcia caught Morales with a big right hand. It literally knocked him goofy. Although still on his feet, he didn't know which corner to wobble to when the bell sounded. He tried them all, and had to be led to the right one. The sad ending to a great career came with one of those great Garcia left hooks, which crashed against Morales' jaw. It landed with such force that it sent him spinning and then flying half-way through the bottom ropes, leaving him lying on his back. Before he could extricate himself, his corner man mercifully jumped into the ring, which meant Referee Benjy Esteves could wave things off.
Danny keeps his WBC and WBA junior welterweight title belts, and Erik begins his fade away into the sunset. In the post-fight interview, Erik expressed an interest in maybe having one more fight in Tijuana, Baja California, Mexico for his fans. Hopefully, it will be more of an exhibition than real fight. He deserves a break. Meanwhile, Danny Garcia has two title belts and invites anyone who thinks he can, to try and take them. Whoever it is better be able to take a punch.