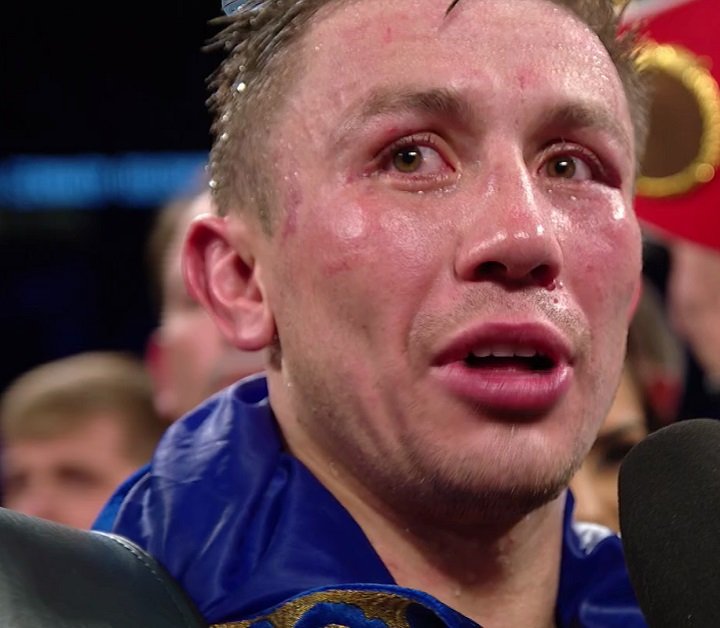 Gennady Golovkin is going to stay inactive for the next 7 months and wait until the Saul Canelo Alvarez rematch on May 5, 2018, says his promoter Tom Loeffler. He says Golovkin is (37-0-1, 33 KOs) is willing to sit on the sidelines and not fight if he can get the rematch with Canelo (49-1-2, 34 KOs).
The problem is the rematch still hasn't been signed. If Golovkin is going risk throwing away 7 months of his career, he's going to need a signed contract for the Canelo fight and soon. It doesn't make sense for Golovkin o not fight in December if Canelo and Golden Boy Promotions aren't producing a contract for the May 5 fight.
"Everything I've heard is that Canelo doesn't want to fight until before May, so that is part of a concession on Gennady's side, as Gennady would like to fight sooner than May," said Golovkin's promoter Tom Loeffler to wbcboxing.com. "But Gennady's agreed that if we can do the rematch directly, he'll wait until then."
Some might say what difference does it matter to Golden Boy and Canelo if Golovkin takes an interim fight in December? He's the world champion, and Canelo is just the Ring champion, which is arguably a lower status, given the chain of champions that came before him. Canelo won the Ring title in a catch-weight fight against Miguel Cotto. Golovkin holds the IBF, WBA, and WBC middleweight titles.
Canelo and his promoters are worried that Golovkin could get injured or lose his interim fight in December, and that in turn would hurt the marketability of the rematch in May. Golovkin not fighting in December hurts his pocket book. He's not making money.
If Golden Boy and Canelo are willing to bump up Golovkin's purse for the rematch by the amount he would have gotten in a fight against Miguel Cotto in December, then it's worth it for him to sit and wait until May. But if Canelo and Golden Boy aren't interested in increasing Golovkin's purse split for the May fight, then it's probably not worth it for Golovkin to not fight in December.
Cotto vs. Golovkin would make big money on HBO PPV in December. That fight would bring in good numbers. It's a fight too tempting not to take if I'm GGG.
It would be a shame if Golovkin ends up not getting the rematch with Canelo in May. There needs to be a drop-dead date for Golovkin and Loeffler to bail if Canelo still hasn't signed a contract for the rematch in May.
This means Golovkin is fighting on two times in 2017.GGG likes to fight 3 to 4 times per year, but it's not possible for the bigger fights like this.
Loeffler went on to say if the fight doesn't get made by May, then it would tell him that Canelo doesn't want the fight.
It's hard to believe that Golovkin would wait until May to find out that Canelo isn't fighting him. If he's not fighting him in May, it'll be obvious well before that. You can argue if the contract for the rematch isn't signed by December, it would be a HUGE hint that Canelo and/or Golden Boy don't want to fight Golovkin in May. Who knows? Maybe they want to age him more? It's hard to tell. They'll be asking Loeffler and Golovkin to agree to certain things such as the venue taking place in Las Vegas again, and possibly the same revenue split as last time for their fight on September 16. Since the fight ended in a 12-round draw, it's essentially a do over. Golovkin might not be able to get a better deal.
This week, the World Boxing Council ordered the Canelo-Goovkin rematch. The order only works for Golovkin. Canelo didn't fight for the WBC title last time against Golovkin, and he probably won't fight for it in the rematch in May, if there is a rematch.