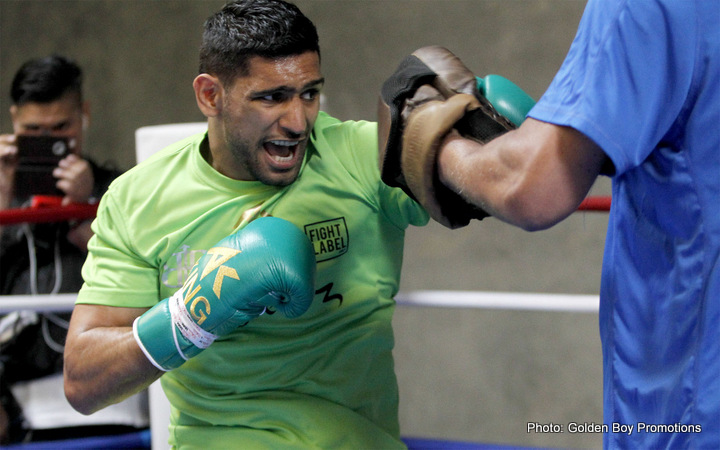 Amir Khan has not fought since May of 2016, and he has not won a fight since a year before that, in May of 2015. And Khan, once one of the top fighters in the world, even breaking into some of the pound-for-pound rankings, has suffered all manner of personal problems since his crushing KO loss to Canelo Alvarez.
Khan does not want the image of him laid flat out on his back courtesy of one savage Alvarez right hand to be the one fans ultimately see in their collective minds whenever his name comes up. Khan, who has retained the urge to fight and to train and keep himself in shape throughout all the turmoil (a very public separation from not only his wife but from other family members also) recently put out a message via social media.
"Can't wait to get back in the ring, where I belong. I apologise to all my fans for not being active for a year. I want this more than anyone. Time to make my comeback, back to the top, where I belong," Khan wrote as part of his twitter message.
But can Khan, 31-4(19) and now aged 30 (31 in December) possibly make it back to the top? If he returns where he belongs, at welterweight (no more catch-weight fights above 147 against monster punchers!) it's not impossible Khan will be able to capture another major belt. There are at the very least some big, intriguing match-ups out there for the former 140 pound champ.
Khan against Danny Garcia in a return fight would be interesting (certainly far more interesting than what Garcia reportedly has planned for his own ring return set for December – a fight against Brandon Rios), while Khan against Lamont Peterson in another return fight would also appeal (even though Peterson has just dropped the version of the WBA welterweight belt he held). Then there is always the "B" word: the Khan-Kell Brook fight. This one will seemingly always be there so long as both guys are still fighting.
Khan deserves one more chance. The Bolton man with the blurring hands and the limitless courage has seen Super Fights that were oh, so close, slip through his fingers (against Mayweather and Pac Man) and he has very probably seen his finest years go, never to return. But inactivity and his less than granite chin aside (that Alvarez right would likely have taken out ANY natural 140/147 pound fighter around today; and don't forget, Khan was outboxing Canelo before disaster struck) Khan is ready to give it one more go.
With reflexes and speed being his most valuable weapons, he doesn't figure to have too much time in which to do it; but Khan is determined to become "King" Khan once again.