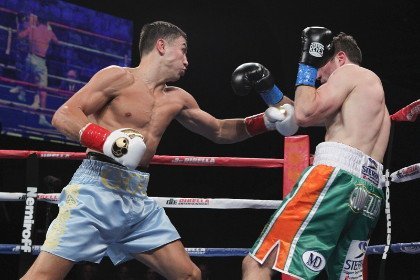 (Photo credit: Dibella Entertainment) MASHANTUCKET, Conn. (June 29, 2013) – Powerful World Boxing Association & International Boxing Organization World middleweight champion Gennady "GGG" Golovkin (27-0, 24 KOs) stopped challenger Matthew "Mack The Knife" Macklin (29-5, 20 KOs) with a lethal body shot in the third round, headlining tonight's HBO Triple-Header, presented by K2 Promotions and DiBella Entertainment, in the MGM Grand Theater at Foxwoods Resort Casino.
Golovkin stalked the game Irishman and finished the fight at 1:22 of the third round with a vicious left hook to Macklin's ribs, sending a strong signal to the entire 160-pound division that the Kazakh is a true force.
"My perfect position for that body shot," Golovkin commented. "I want this fight (vs. Sergio Martinez). I felt great in the ring, he never hurt me. It was an easy fight for me. I want to fight against soon. Any top fighter, any champion, any belt holder….anywhere."
"He's the best I ever fought," a game Macklin said. "He never really let me get started. It was a great shot he landed, the left hook to the body is personally one of my favorites. I tip my hat to him; he's a great champion. He has clubbing, solid power and you can feel the weight of every punch he throws."
The 10-round co-feature between super middleweights Thomas "Tommy Gun" Oosthuizen
(21-0-2, 13 KOs) and Brandon "Flawless" Gonzales (17-0-1, 10 KOs) battled to a draw (96-94, 92-98, 95-95) in their HBO debuts. Oosthuizen, the International Boxing Organization (IBO) champion, stormed back to win the last five rounds on two judges' scorecards. South African southpaw Oosthuizen is rated No. 5 byThe Ring Magazine, International Boxing Federation (IBF) and WBA, while Gonzales is ranked No. 10 by the IBF.
"I felt sluggish the first two rounds and then I found my rhythm. I thought I won the fight. I'd give him an immediate rematch if he wanted. I want to come back to fight in America soon and I want to fight Mikkel Kessler."
"I feel good," Gonzales remarked. "I absolutely won the fight. I landed the harder punches and out-boxed him. I did everything I had to do, unfortunately, the judges didn't think so. We'll go back to the drawing board and figure out where to go from there."
http://www.youtube.com/watch?v=EDcCA9zp4WY
In the televised opener, North American Boxing Federation (NABF) super welterweight champion Willie "The Great" Nelson (21-1-1, 12 KOs), rated No. 3 in the World Boxing Council (WBC), successfully defended his title, earning a hard-fought 10-round unanimous decision (97-93, 97-93, 96-94) over WBC No. 13-rated Luciano Cuello (32-3, 6 KOs). Nelson was wobbled twice by the rugged Argentinian, whose previous two career losses were to world champion Saul Alvarez and Julio Cesar Chavez, Jr., and, after building up an early lead after six rounds (59-53, 59-53, 58-56), the 6'4″ Cleveland fighter came back strong to win the eighth and ninth rounds for the edge. Nelson dedicated his fight to the three Cleveland women -Amanda Berry,Gina DeJesus andMichelle Knight – who were kidnapped, abused and held hostage for a decade until they were recently freed.
"I feel great," Nelson said after making his HBO debut. "He's tougher than I thought but I still think I won convincingly. The cuts (both eyes) bothered me but I fought through it. I want to fight all the top 154-pound fighters and this was another step in that direction."
Popular Irish-American boxerDanny "Bhoy" O'Connor (21-1, 7 KOs), who dedicated his fight to the victims of the Boston Marathon bombing, won his seventh straight fight with a hard-fought eight-round decision over toughHector "The Hurricane" Munoz (21-11-1, 14 KOs). O'Connor, fighting out of Framingham, Mass., had the largest and loudest fan-base of the night.
Undefeated New Haven prospect Luis "KO King" Rosa, Jr. rolled to his 14th straight victory, taking a unanimous eight-round decision from 65-fight Mexican veteran Jose "Pepe" Beranza.
Washington D.C. welterweight Dusty Hernandez-Harrison improved his perfect record to 16-0 with a six-round unanimous decision win over Ben "The Congo Soldier" Ankrah (17-16).
COMPLETE RESULTS
SUPER MIDDLEWEIGHTS
Thomas Oosthuizen (21-0-2, 13 KOs), Boksburg, S. Africa D10 (96-94, 92-98, 95-95) Brandon Gonzales (17-0-1, 10 KOs), Sacramento, CA
MIDDLEWEIGHTS:
Gennady Golovkin (27-0, 24 KOs), Stuttgart, Germany WKO3 (1:23) Mathew Macklin (29-5, 20 KOs), Birmingham, UK
(Golovkin retained WBA & IBO middleweight title)
SUPER WELTERWEIGHTS
Willie Nelson (21-1-1, 12 KOs), Cleveland, Ohio WDEC10 (97-93, 97-93, 96-94) Luciano Cuello (32-3, 16 KOs), Buenos Aires, Argentina
(Nelson retained NABF Super welterweight title)
Danny O'Connor (21-1, 7 KOs), Framingham, MA WDEC8 (79-73, 79-73, 79-73) Hector Munoz (21-11-1, 14 KOs), Albuquerque, NM
WELTERWEIGHTS
Dusty Hernandez-Harrison (16-0, 9 KOs), Washington D.C. WDEC6 (60-54, 60-54, 59-55) Ben Ankrah (17-15, 8 KOs), Chicago, IL
FEATHERWEIGHTS
Luis Rosa, Jr. (14-0, 6 KOs), New Haven, CT WDEC8 (79-72, 79-72, 79-72) Jose Beranza (36-27-2, 28 KOs), Mexico City, Mexico